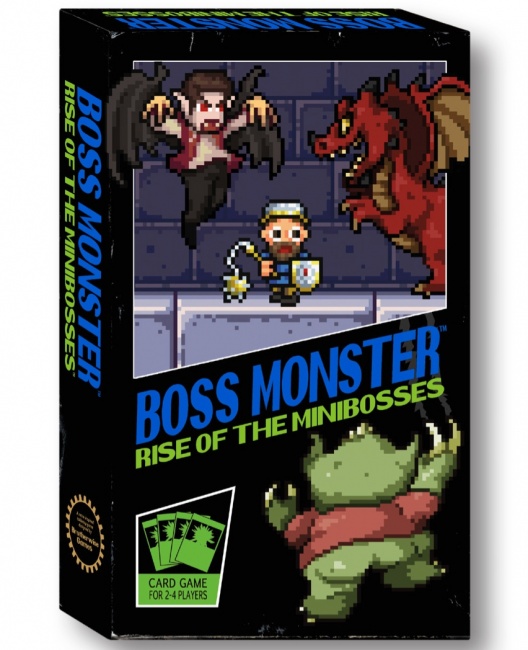 Brotherwise Games will be releasing
Boss Monster: Rise of the Minibosses
, a new stand-alone expansion for its popular retro-arcade style card game
Boss Monster
, on July 11.
Boss Monster: Rise of the Minibosses is a large expansion set for Boss Monster that can be played on its own or combined with earlier Boss Monster sets and expansions. Rise of the Minibosses adds a new mechanic to the game which allows players to collect "Coins" by using their Rooms and Spells. Coins can then be used to upgrade rooms or hire the new "Minibosses." Minibosses provide permanent bonuses to improve the player's dungeon rooms. Also included are new Bosses, spells, and heroes.
The 165-card expansion set comes with 35 coin tokens, 24-page rulebook, and a quickstart sheet. As a stand-alone game, it supports 2 to 4 players, ages 13 and up, and plays in about half an hour. MSRP is $24.95.
Last year, Brotherwise released the most recent Boss Monster expansion (see "Exclusive Preview: 'Boss Monster: Implements of Destruction'"). The game was a top ten hit last spring (see "Top 10 Hobby Channel Card/Dice Games--Spring 2017").