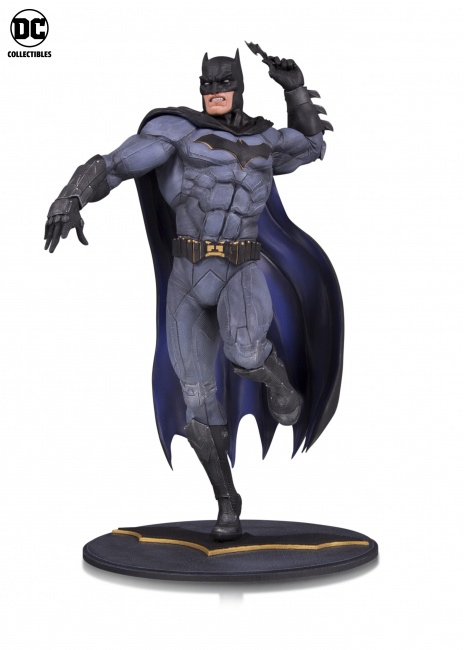 At New York Toy Fair, DC Collectibles was showcasing upcoming statues, action figures and more. ICv2 spoke with DC Collectibles Executive Creative Director Jim Fletcher to learn more.
"The DC Core PVC Statues are a new line that we're doing," Fletcher said. "It includes our core characters, as they are, in exciting poses. We're working in PVC to keep the price point down, and also because of breakability. With resin, this falls off the shelf, it's pretty much done. If these fall off the shelf, hopefully they'll just bounce, and you can put them back up."
The first pieces in the 9"+ line will beginning releasing in August, and include Wonder Woman, Batman, Batgirl and Joker. "They're based on Rebirth versions of the characters," Fletcher said. "The 'core' is meaning not so much the costume, but the core of the character, and the vibe of the statue, like why they're in that pose." MSRP is $50.00.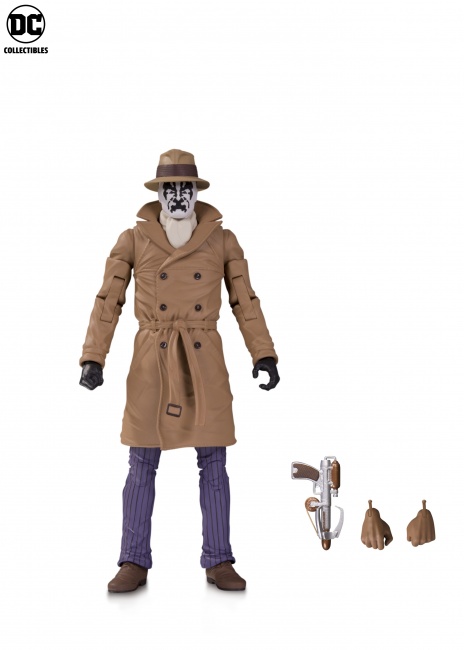 "The
Doomsday Clock Action Figures
are a big deal for the company," he continued. "Geoff Johns and Gary Frank have delved back into the Watchmen universe, and obviously, mashed it together with some of what's happening in DC."
"This is our first chance to actually do the Watchmen characters in the style of the comic books. We haven't really had a chance to do it before." Fletcher clarified that DC had done a line for the Watchmen movie, but Mattel made comic-related action figures in the past. The Doomsday Clock 7" Action Figure 2-Packs will include Dr. Manhattan and Ozymandias, Rorschach and Mime, and The Comedian and Marionette. The packs have an MSRP of $50.00 and are scheduled to start releasing in September.
The popular Batman Animated Series figures will expand in 2018. "What we're doing is continuing the line with these Expressions Packs," Fletcher said. "We're taking a lot of the different attitudes seen on the show and on the sell guides. You can pop the heads on and off, and do all these various things. Harley even has a pair of roller skates you can remove and put on. She can zoom around, and do all kinds of fun things!" The Joker Expressions Pack with Action Figure will release in March, the Harley Figure is planned for August. MSRP is $50.00/each.
The
DC Artists Alley Collections
spotlight artists' take on DC Characters. "We literally walk through Artist Alley and find artists that we like. That's as simple as that. That's how the project runs," said Fletcher. "They're not necessarily artists that they would use on comic books or other editorial initiatives, but for our audience, we are really going to that underground, vinyl collectible art, just picking out artists we think are interesting." This year's artists include Chris Uminga (June - $40.00/each), Hainanu "Nooligan" Saulque (September, $40.00/each), and Sho Murase (November - $40.00/each).
The new Teen Titans Statue is a multi-part statue based on the art of George Perez from Teen Titans #1. The first character, Robin, will release in August. Each statue has an MSRP of $80.00. The collection will finish with Raven in November.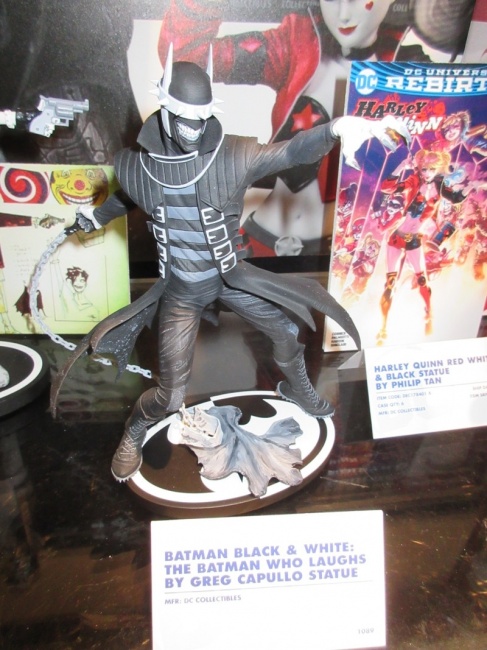 Batman Black & White
will expand with two pieces by Gerard Way from an unpublished
Batman
story, as well as a new
Batman
by Becky Cloonan, and a Greg Capullo statue from the
Metal
series
The Batman Who Laughs.
MSRP is $80.00. Release is planned for the second half of 2018.
See more than 40 images in the gallery below!