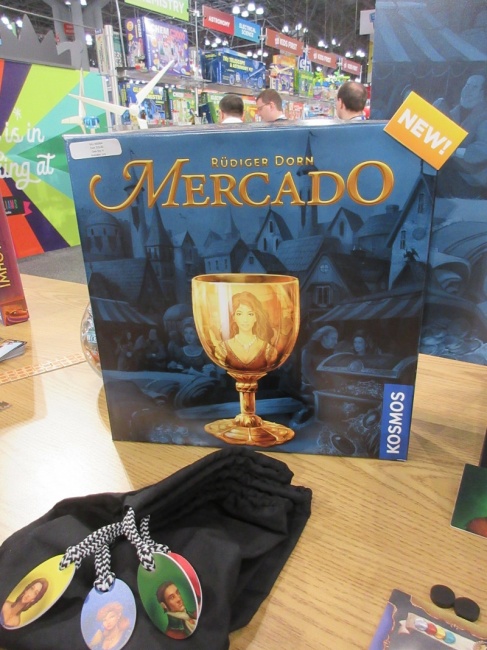 ICv2 met with Thames & Kosmos at the New York Toy Fair to learn about three new projects set to release this summer: Rudiger Dorn's
Mercado
, the
Imhotep: A New Dynasty
expansion, and an updated version of Reiner Knizia's
Lost Cities
.
In Mercado (from the creator of Istanbul and Goa), the players are wealthy Spanish nobles out to impress their friends by collecting the best assortment of trinkets. The game uses a bidding mechanic in which players place coins of various colors drawn randomly from their own bag on desired items in turns until a player has committed the right coins to meet the cost. As an added twist, players can earn bonuses based on where their marker lands on the scoring track, possibly encouraging them to bid for otherwise less valuable trinkets.
Mercado also offers an "advanced game" that adds engine-building mechanics. The game is intended for 2 to 4 players, ages 10 and up, and plays in about half an hour. MSRP is $49.95. Mercado is scheduled to release in July.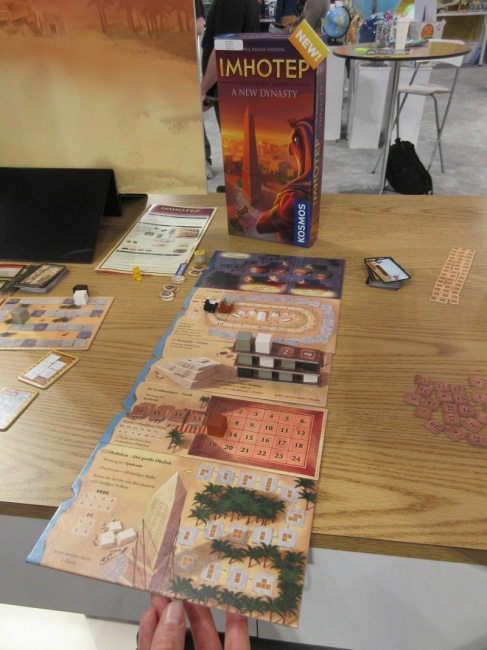 Also planned for July is an expansion set for Phil Walker-Harding's pyramid-building game
Imhotep
called
A New Dynasty
. The expansion adds additional site boards and market cards to provide players with new tools and opportunities, as well as a way to appeal to the gods of Egypt by accurately predicting how their construction will progress, but at the risk of earning punishments if those predictions fail.
Imhotep: A New Dynasty supports games with 2 to 4 players and adds about 10 minutes to the playing time. A copy of the base game is needed to play. MSRP is $24.95. (Imhotep was released in 2016—see "Thames and Kosmos Announce Summer Releases.")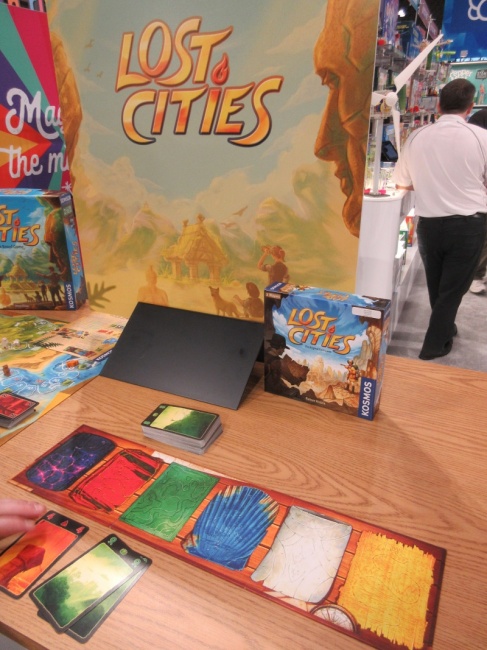 Also on offer is a refreshed version of Reiner Knizia's critically acclaimed card game from 1999,
Lost Cities
(which Thames & Kosmos has distributed in the U.S. since 2015—see "
New Source for Kosmos Games in U.S.
"). The refresh will include updated artwork featuring brighter colors and graphics that are friendlier to those who suffer from color-blindness. The
Expedition 6—The Lost Expedition
expansion from 2016 will also be included in the update, and players can play with or without the expansion using the materials in the box.
Like the original, the new Lost Cities is intended for 2 players, ages 10 and up, and plays in half an hour. MSRP is $19.95.
Thames & Kosmos wrapped up 2017 with a trio of new Exit titles and the last Legends of Andor expansion (see "Three New 'Exit' Titles From Thames & Kosmos").
See images of all three games in the gallery below!