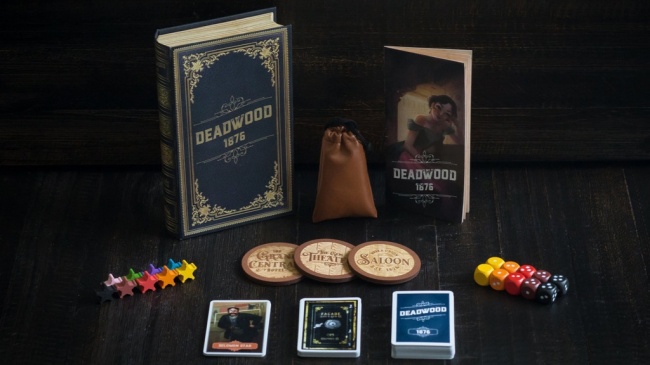 The next title in Facade Games' "Dark Cities Series" of artistically produced games will be
Deadwood 1876
, releasing in October.
The infamous city of Deadwood is the scene of betrayal and greed in
Deadwood 1876
. Assuming the role of historic personalities who actually lived in the city during the 1870's, the players form teams to break into the most valuable safes hidden in the city. Safes can offer up gold, of course, but also valuable items and the all-important guns needed for the final showdown. At the end of the game, the team with the most gold face off in a fight to the death to see who the game's final winner will be.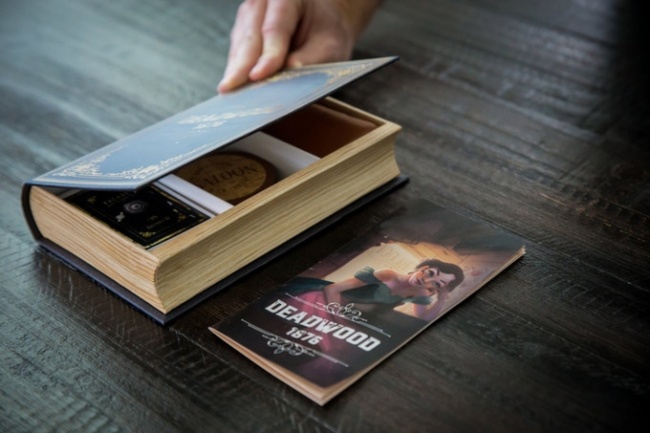 Like earlier games in Facade's line (see "
Pirate Treachery is the Way in 'Tortuga 1667'
"),
Deadwood 1876
will be packaged in a box disguised to look like a book published in the time period that the game is set, along with similarly-themed components including laser-cut wooden tokens, custom wooden dice, and wooden sheriff stars with a faux leather pouch to hold the components.
Deadwood 1876
was created by the husband and wife team of Travis and Holly Hancock (
Tortuga 1667
,
Salem 1692
) and features illustrations by Sarah Keele. The game will include 79 cards, 10 wooden dice, 9 wooden star pawns, 3 wooden tokens, and a faux leather pouch packaged in a faux book box with magnetic closure. It is intended for 2 to 9 players, ages 13 and up, and plays in about half an hour. MSRP is $24.99.
Facade is funding the production of
Deadwood 1876
through a Kickstarter campaign that has attracted $139,462 from 3,877 backers as of this writing (an average of $35.97 per backer), with 24 days remaining. The company is offering a retailer-only backer option that includes 24 copies of the game. Backer fulfillment is scheduled for October, with release into the trade to follow.