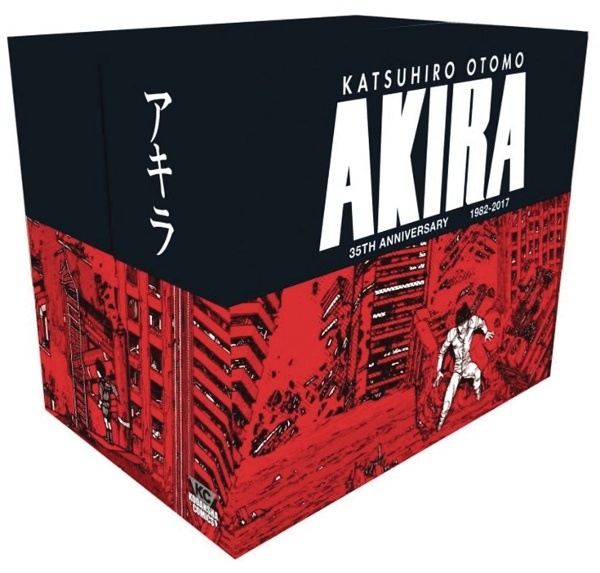 It's been a long time since we could say this:
Akira
was the #1 manga franchise on ICv2's Top 10 Manga Franchises chart for Fall 2017 (September - December), driven by the $199.99 price for the 35th Anniversary HC Box Set collection of all the volumes from Kodansha Comics. The box set was the #5 piece sale graphic novel in bookstores in November (see "
November 2017 BookScan Top 20 Adult Graphic Novels
"), an impressive accomplishment at that price point.
The perennial best-seller
Death Note
moved up on the chart for the Fall season, with sales stimulated by the Netflix movie.
Also of note on our Fall 2017 chart are the Junji Ito horror titles, which when considered together bring the horror master's works into the Top 10.
Top 10 Manga Franchises – Fall 2017

Rank

Title

Publisher

Genre

1

Akira

Kodansha Comics

Seinen

2

Tokyo Ghoul

VIZ Media

Seinen

3

Death Note

VIZ Media

Shonen

4

My Hero Academia

VIZ Media

Shonen

5

Legend of Zelda

VIZ Media

Shonen

6

Naruto/Boruto

VIZ Media

Shonen

7

Pokemon

VIZ Media

Shonen

8

Junji Ito Horror

VIZ Media

Seinen

9

One Piece

VIZ Media

Shonen

10

One Punch Man

VIZ Media

Seinen

Note: Includes all channels
This chart of the ICv2 "Top 10 Manga Franchises" reflects sales in all channels for Fall 2017. The "Top 10" chart is based on data from both the comic store and book channels, aggregated by character or property to determine the Top Franchises (based on dollars) in the comics business. Because it looks at both channels for graphic novels, which target a broad range of consumers across demographic groups, and aggregates info by property, the ICv2 Top 10 Graphic Novel Franchise charts give the best picture of the properties that are driving sales in the U.S.