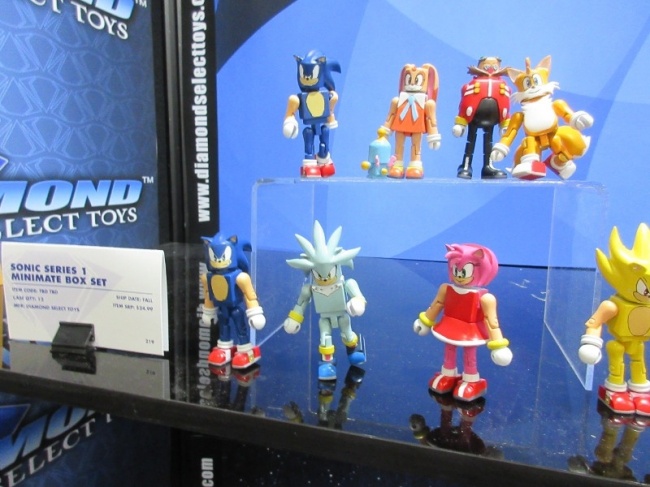 At Toy Fair, Diamond Select Toys was showing off the latest collectible figures exclusive to the comic shop audience, as well as dropping hints at what's coming for some popular lines. ICv2 spoke with Zach Oat, Marketing Supervisor for Diamond Select Toys to learn more.
The company recently secured a Sonic The Hedgehog license, and was showing off preliminary items – pending approval. "These are the first things we're offering, the PVC dioramas, and also a Minimates box set for comic shops that'll have exclusive characters in it," Oat said. The two large "hoops" figures of Sonic and Tails will initially be exclusive to Game Stop. "At first, they will be exclusive for [Game Stop] for a limited time. Then they will be offered several months down the road, to comic shops so that [comic shops] can carry them."
"Our Marvel line of Premier Collection statues, we've got a few new pieces here that haven't been shown," Oat said. "We've shown the Deadpool and Cable Premier Collection. This is $150 resin statue, but we haven't shown Domino. She completes a three‑part diorama." He also showed the hovering Magneto Premiere Collection statue, which is supported by magnetic field and the Lady Deadpool statue.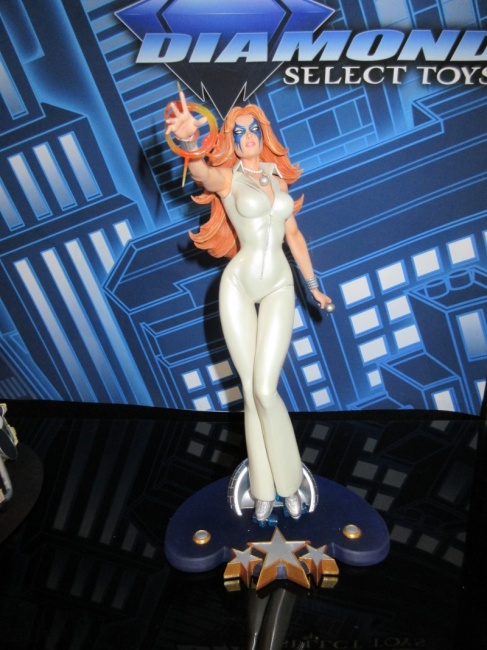 Next were the Marvel Gallery PVC statues, which run around $45.00.
Dazzler, Black Cat,
and
Carnage
will ship this fall.
Squirrel Girl, Venom,
and
Wolverine
are planned for summer.
Diamond Select just solicited for series 75 of the Marvel Minimates. Series 76 is expected to be popular. "This is all based on the Maximum Carnage storyline from the '90s, a big Spider‑Man crossover," Oat said. "If you buy all four sets, you can build Shriek, who is a fairly obscure character. It's one of Carnage's love interests. These are all, again, exclusive to comic shops." The series will ship this summer.
With the imminent release of the Kingdom Hearts 3 video game, Diamond Select will be releasing new action figures. "We offer some exclusive figures at comic shops, said Oat. "They're the only ones who get our select, larger action figure packaging. In addition to the three‑packs you here, which some of these figures will be available in other locations, we have exclusive set of Aqua and Goofy." There are also PVC statues, and a deluxe Minimate vehicle set.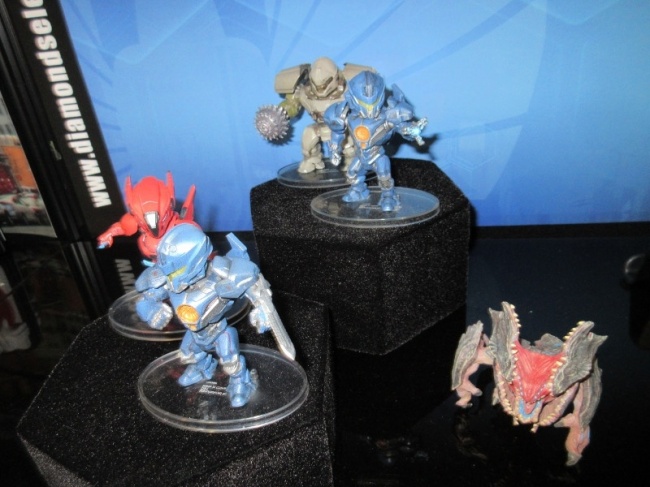 Ahead of March
Previews
, the company was showing off the
Pacific Rim 2 Kaiju Vinyl
, as well as previewing the
Pacific Rim 2 Select Series 3
figure assortment. Also on display were some prototypes of … chibi kaiju and jaegers? "We've never really done chibi style, which is a super cute, super deformed. We're going to do these for specialty in, I think, blind boxes, but very cute versions of all the Jaegers and the kaiju," Oat said.
The Ghostbusters Select Series is now moving into the animated The Real Ghostbusters characters with Series 9 and 10. The comic store versions of the figures come with pieces to a diorama. "That diorama you build is the firehouse doors. Those are exclusive to the comic shop and specialty store versions, that larger select packaging. They come with a diorama piece," Oat explained. "Toys "R" Us will get the characters, but they won't get that diorama piece that they need to build the diorama."
The Nightmare Before Christmas line is celebrating its silver anniversary this year, and Oats showed off something new for the property. "Minimates. We're going to offering some exclusive Minimates to comic shops, which are the little two‑inch block figures, fully posable, interchangeable." Release information wasn't available at this time.
Diamond Select teased plans for Minimates based on the upcoming Predator movie ahead of Toy Fair (see "'Batman,' 'Arrow,' 'Nightmare Before Christmas,' 'Predator'"), but the company plans more. "There will be product for the new Predator movie that's going to be coming out, I believe, later on this year," Oat said. "I can't say specifically what we'll be doing or for what movies we'll be doing, but there will be more Marvel movie items for comic shops, statues, galleries, and more DC movie items."
See images of products in the gallery below!