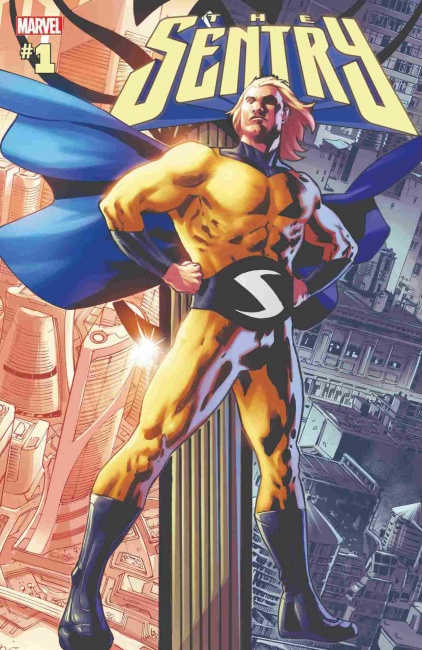 The Sentry is returning to the Marvel universe courtesy of writer Jeff Lemire (
Moon Knight, Sweet Tooth
) and artist Kim Jacinto (
Avengers: No Surrender
).
The Sentry
#1 goes on sale in June according to
comicbook.com
.
The release is part of Marvel's "Fresh Start" initiative. Marvel previously announced that Iron Man (see "
Preview: 'Tony Stark: Iron Man' #1
"), Thor (see "
The God Of Thunder Returns
"), Avengers, Venom, and Black Panther will also be getting new #1s (see "
Marvel's 'Fresh Start' Begins With 'Avengers,' 'Venom,' and 'Black Panther'
"), along with a new series for the Jade Giant,
The Immortal Hulk
(see "
Marvel Immortalizes The Hulk
").
Sentry debuted in 2000, created by Paul Jenkins and drawn by Jae Lee. Robert Reynolds, originally depicted as a middle-aged man struggling with addiction, becomes Sentry after drinking a serum that gives him nearly unlimited powers. The extremely powerful character also has a dark side: his arch nemesis The Void, who reacts to Sentry's acts of good with corresponding acts of evil, happens to be Sentry's own alter ego. Sentry has been retconned into the Marvel universe by having his existence wiped from the minds of nearly everyone on multiple occasions.
Sentry has been largely absent from comics since he was killed in
Siege
(2010) and brought back as a Horseman of Death in 2013, after which he travelled into deep space with a Celestial's body. The character recently made an appearance in
Doctor Strange
. The events of Lemire and Jacinto's
The Sentry
pick up a few months after Sentry's meeting with Strange. While the Void is supposedly locked up in Strange's closet, Lemire promises the villain will make an appearance in the new series.