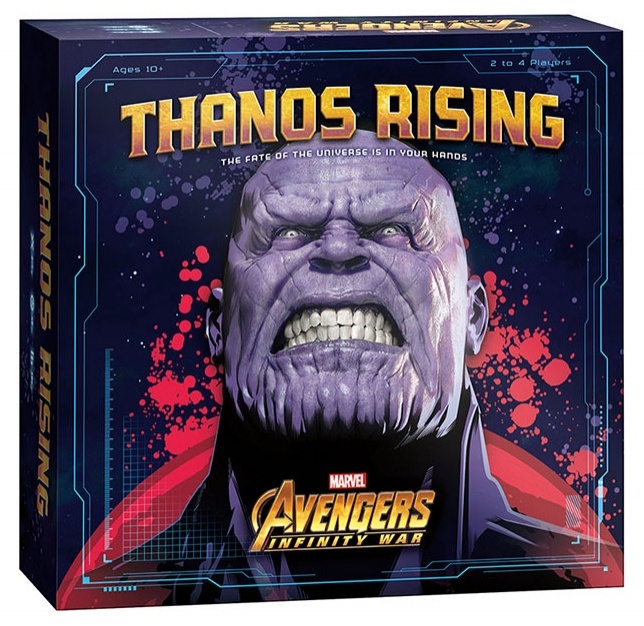 USAopoly will release a new game,
Thanos Rising: Avengers Infinity War
, tied closely to the Marvel Studios movie storyline and characters. The most eye-catching feature is a 120mm custom-sculpted Thanos figure, one of over 190 game components. Thanos is surrounded by a galaxy setting where players recruit heroes to join forces to defeat him as he tries to collect all six stones of the Infinity Gauntlet. The game, designed by Andrew Wolf, will play in about one hour, and retail for $49.95.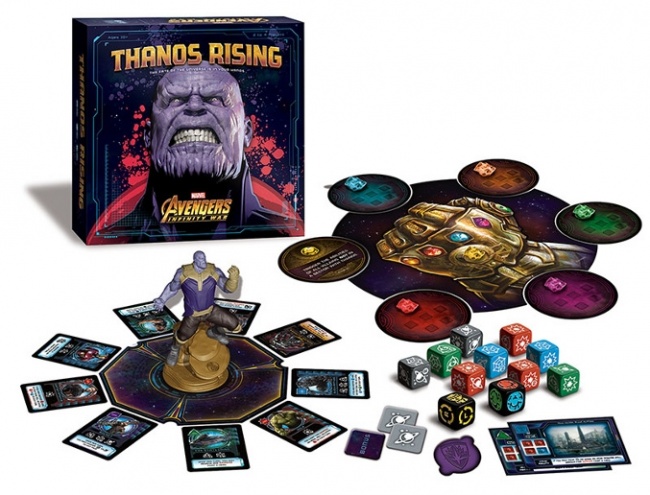 "Each turn, you're going to go to a different deployment zone," a USAopoly spokesperson explained. "You're going to try to draft some players. These are your friends, your allies are going to help you to defeat Thanos by giving you extra dice rolls and extra turns, the ability to remove damage and heal players.
"He pretty quickly causes a lot of damages and he gets moved around with the Thanos dice to different sectors in this game board. His villains will be deployed and activated when he visits their sector. You've got to work together to defeat the villains by following the prompts at the bottom."
Because of the standardized reveal date for
Avengers: Infinity War
merch, the product is being solicited on a tight schedule, with a quick turnaround on preorders and a release date (USAopoly's first) on March 23.
The movie release date was recently moved one week earlier, to April 27 (see "
'Avengers: Infinity War' Release Date Moved
").
Click Gallery below for full-size pics of Thanos Rising and other components!