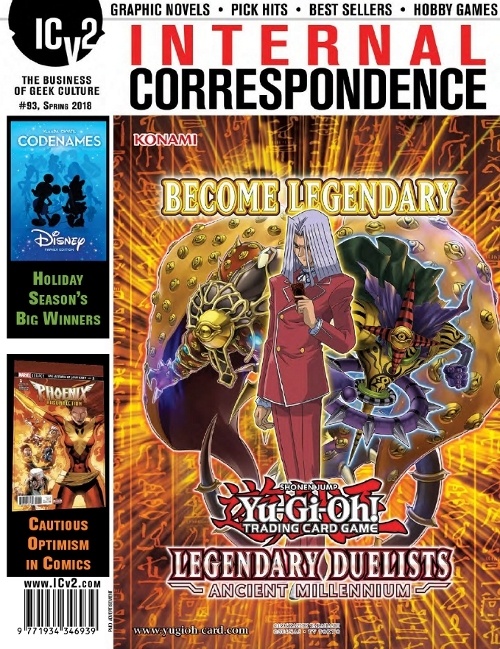 The numbers on the comics and graphic novel market for 2017 were weak, to be sure. In comic stores, sales were down 10%, according to numbers provided by Diamond Comic Distributors. In bookstores, while kids graphic novels were up dramatically, overall graphic novel sales were down based on NPD BookScan numbers. And the year finished weak in comic stores, with down months in 2017 comparing to already declining sales in 2016.
What's behind those numbers? We talked to comic retailers around the country to get some perspective on what happened in the final months of 2017, and how things are looking for the new year.
The biggest problem in comic stores in 2017 was Marvel sales, which were dramatically lower. And as Nate Machado of New England Comics in Brockton, Massachusetts noted, "The way the Big M goes is the way the whole industry goes."
The good news is that with one exception, all of the retailers we spoke to felt like Marvel sales had bottomed and were starting to turn around.
Phoenix Resurrection
and the weekly
Avengers
books were mentioned frequently as titles leading the turnaround.
Comic retailers were happy with DC's output, citing
Dark Nights Metal
and
Doomsday Clock
as the biggest hits, but other titles such as
Batman, Detective Comics
, and
Flash
also getting mentions. And just as multiple retailers noted Marvel's "fragmented" storytelling, DC's more cohesive editorial was noted on the flip side.
Image Comics had no major new hits in 2017, and we heard more than once that the company is putting out too many #1s.
Some were reporting good graphic novel sales outside the superhero mainstream.
With Marvel sales apparently bottoming and hope that the new management team will produce better results, continued strong media exposure for comic properties, growing DC sales, and strength in other areas, there was a general sense of optimism for 2018 with the caveat that improvement was going to take a while. "I think this year will be better," Machado predicted. "It may not be gangbusters better, but I'm looking at it from a positive standpoint."
For a full-length version of this article on our Pro site, click here.
Here are links to ICv2's charts of the Top Hobby Games across five categories for Fall (September-December 2017), which first appeared in
Internal Correspondence
#93:
Top 10 Superhero Graphic Novel Franchises – Fall 2017
Top 10 Author Graphic Novel Franchises – Fall 2017
Top 10 Manga Franchises – Fall 2017
Top 10 Kids/Tweens Graphic Novel Granchises – Fall 2017
For info on how to get your copy of
ICv2's Internal Correspondence
#93, with the full market reports, Pick Hits of the best upcoming games releases, and more, see "
ICv2 Releases 'Internal Correspondence' #93
."