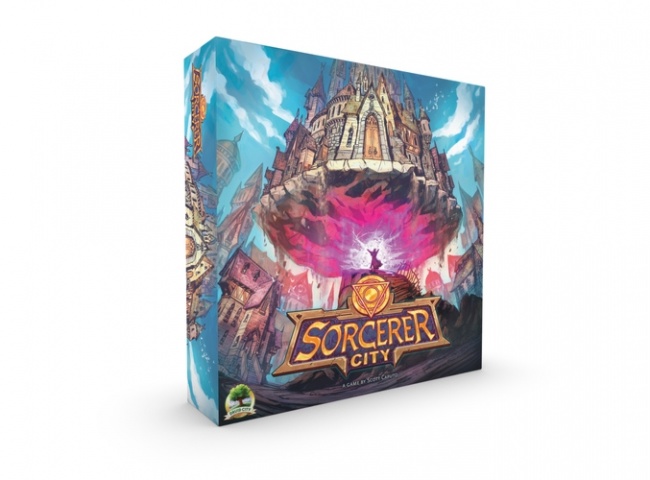 In what Druid City hopes will be a magical combination,
Sorcerer City
blends three popular game genres together into one. The new game will release in January.
As might be expected from a city full of magic-wielders, Sorcerer City changes completely every year, forcing its architects to rebuild it from scratch. To accomplish this, players use their own "deck" of tiles to create their own city. Like most tile laying games, players try to link together areas of their city that are the same color, which in turn provides them resources such as magic, gold, and influence. The twist here is that city construction must be done in real time, as players have only two minutes each round to build their city.
Once the cities are built, players collect resources, converting their magic into whatever resources they need most. Then the deck builder element of the game kicks in, with players acquiring new tiles to improve their deck before the next round. The bad news for the would-be sorcerers is the constant threat of monsters which make their way into the city every round, clogging up the players' decks with undesirable tiles. In the end, the player who can gather the most prestige over five rounds wins the game.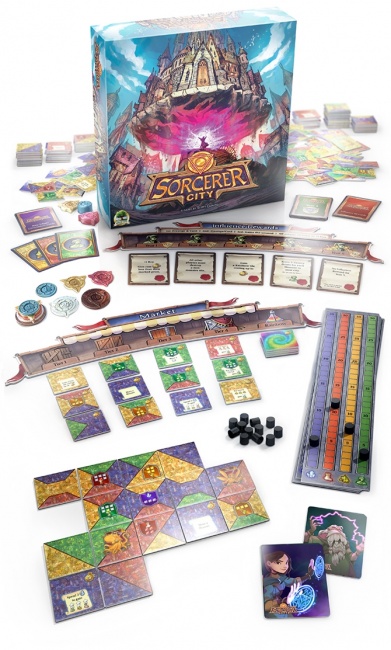 Sorcerer City
was created by Scott Caputo (
Voluspa
,
Whistle Stop
). The game comes with 204 tiles, 1 influence rewards board, 1 market board, 112 cardboard tokens, 4 score trackers, and 35 cards. It can be played by 1 to 6 players, ages 14 and up, and takes a little less than one hour to play. MSRP is $49.00.
Druid City is seeking funding for production of Sorcerer City through a Kickstarter campaign that has collected $145,723 from 2,170 backers (an average of $67.15 per backer) as of this writing, with four days remaining. The campaign includes a retailer-only backer option, for 6 or 12 copies of the deluxe Kickstarter-exclusive version of the game, which will feature metal tokens, molded plastic miniatures, and other upgraded components. Backer fulfillment is planned for January, 2019, with release into the trade to follow.
Earlier this year, Druid City announced that it would be partnering with Skybound Entertainment to release its games to the trade market (see "'Grimm Forest' and 'Guardian's Call' Come to Trade").