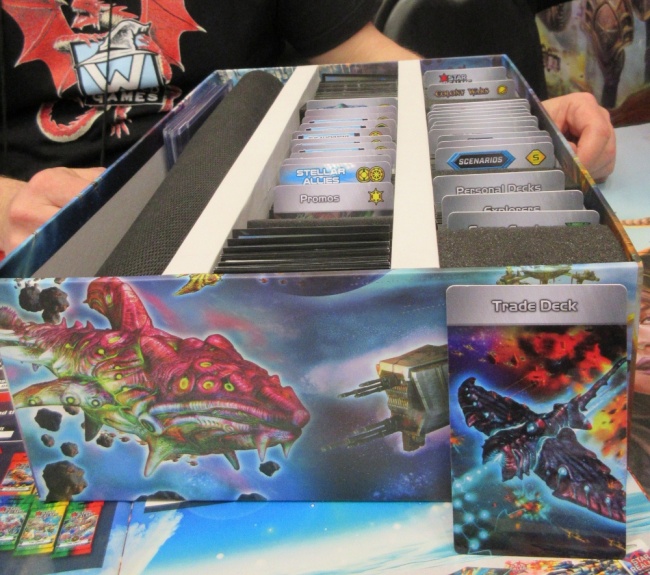 White Wizard Games will be releasing numerous products this summer for its popular
Star Realms
Deckbuilding Game
.
White Wizard announced the products last year as part of a very successful Kickstarter (see "White Wizard Enlists Retailers for New 'Star Realms' Release") which raised $1,100,212 from 12,159 backers ($90.49 /backer average).
Currently it plans to release four new playmats featuring the stunning artwork highlighting the factions of the game in May. Each playmat measures 24" x 14" and supports two to six player games. The four designs include Destroyer Mech (Machine Cult), Infested Moon (Blob), Ion Station (Trade Federation) and Light Cruiser (Star Empire). MSRP is $24.99.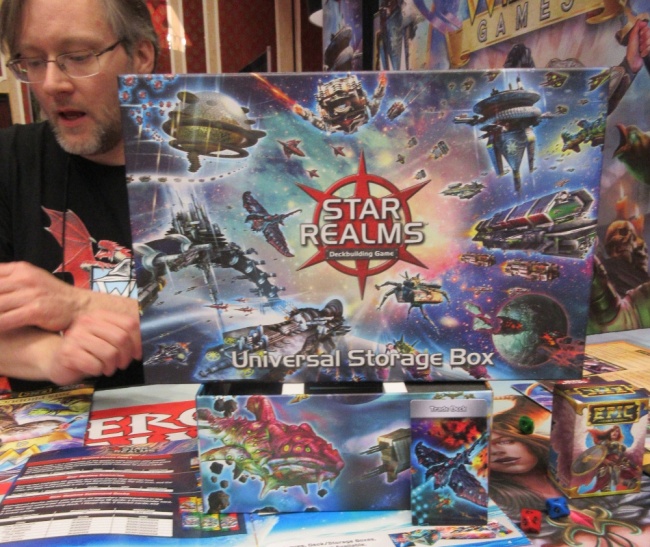 The
Star Realms Universal Storage Box
has been a highly requested item from players, Robert Dougherty told ICv2. The game is popular for its portability, but collectors want an "all-in-one" storage solution. So in June, the sturdy
Universal Storage Box
will release. It can hold the entire
Star Realms
library "with or without sleeves" Dougherty assured. It will measure 10" x 15" by 4.25" and include 30 high quality plastic dividers labeled for each set, 6 foam blocks to hold sets in space, and include room for future expansions. It will also include a playmat and a 15-card promo and token pack. MSRP is $29.99.
Star Realms Frontiers, a complete 1 – 4 player standalone game, will arrive with 152 cards, including an all-new 80-card trade deck and 8 oversized challenge cards which can be used for solo or co-op challenges in July. A new warpgate has opened a distant frontier and factions are racing to claim the new territory. MSRP is $19.99. The game can be combined with existing Star Realms releases.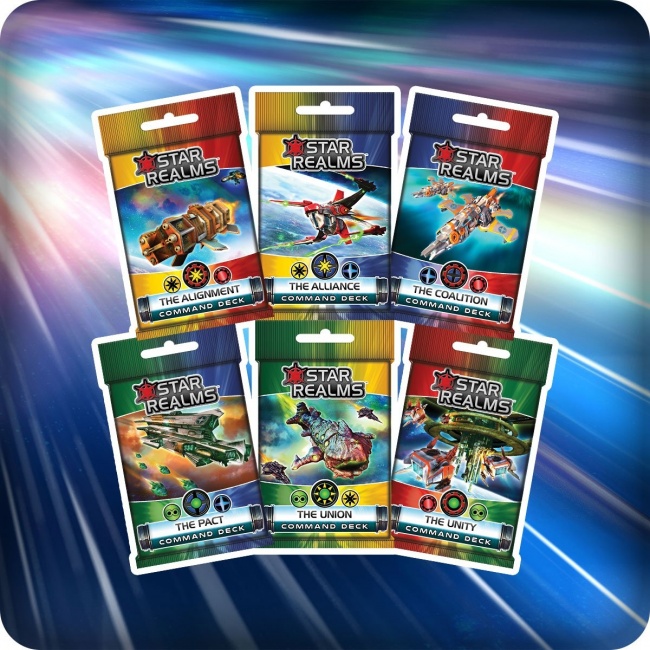 The
Command Decks
releasing in July or August are 6 non-random decks which allow players to add a Legendary Commander to their game. A Legendary Commander card shows the Commander's hand size and starting Authority, and the pack includes 2 Gambit cards unique to that Commander. Each of the decks includes 17 cards. MSRP is $5.99.
White Wizard will also be releasing the new game Sorcerer to trade this fall (see "Conquer Victorian London with Dark Magic in 'Sorcerer'").