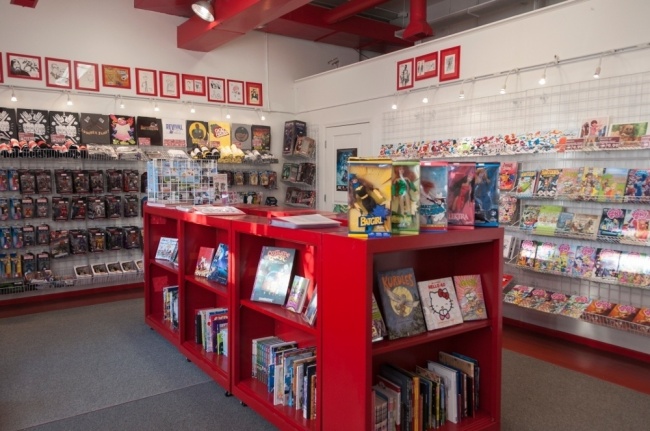 There's no doubt about it: If you run a direct market comic store, Diamond Comic Distributors is the "direct" for your "market." But any store worth its salt needs to be looking outside Diamond's mine as well.
"Diamond is great with what they specialize in, comics and trades," says Mike Wellman of The Comic Bug, a two-store Los Angeles-area chain. "But we find that it's cheaper and more time-efficient to order things like comic supplies, toys, and games from other vendors and distributors."
Comic Bug orders toys and merch direct from manufacturers such as NECA, Mezco, and Kotobukiya that have either deeper discounts or faster arrival than Diamond. It's all part of a growing trend.
"Diamond's is a deal of convenience—one stop shopping," says Joe Field of Flying Colors Comics in Concord, CA. "And no other distributor does frontlist comic books. Diamond is still far and away our largest supplier, but their percentage of our business has been steadily dropping in the last several years. We deal with about 40 vendors here and I know some retailers deal with a lot more than that."
Challengers Comics in Chicago is one store that deals "with a lot more than that." They ordered product from a whopping 110 suppliers in 2017, sometimes direct from creators themselves (see list below).
Books is, of course, a massive category. Jenn Haines owns two The Dragon stores in Ontario, with a third coming on June 1. She has a direct account with Hachette Book Group for Yen Press and Hyperion, where she enjoys a deeper discount.
"50% off Canadian cover price with no restocking fees versus 45% off at Diamond," Haines says. "This is a big deal." Haines also gets her Scholastic titles direct from Scholastic (where they're always in stock) at 50% off.
Similarly, Ingram can offer returnability on books and magazines where Diamond does not, while Baker & Taylor can offer faster and cheaper shipping than Diamond.
Bags, boards, 9-pocket pages and other supplies can be your silent profit center, or a silent killer if you don't watch your bottom line. Robert Young at Borderlands Comics in Greenville, SC swears by BCW.
"BCW has better pricing, and you can get free shipping by reaching proper purchase levels," he says. "On supplies alone, this can be a $300 monthly savings or more."
Southern Hobby Supply is also very popular for supplies, and even more.
"Getting comic supplies from Southern Hobby has long been more practical for us," says Matthew Price of Speeding Bullet Comics in Norman, OK. "We've also gotten gaming supplies and D&D books from them recently."
Comic stores are also (call them what you will) merchandise stores or pop culture stores as well. Diamond offers a nice supply of novelty merch, but the cuts go much deeper when you go to the source.
"Ata-Boy is a great example of this, as they have tens of thousands of buttons that you can order by design, and Diamond only carries about a dozen of the button assortments, and they don't always keep those in stock," Jenn Haines says. "They have a variety of racking and display options that they will add on for free with different purchase levels."
And there's also a closer-to-the-source option for one of the biggest merchandise items of the last several years.
"I get Funko Pops for $5.50 to $5.75 direct from Funko versus $6.25 from Diamond," says Lael Berelowitz of Vegas Comics in Las Vegas. "Any time I can find a direct account or a mom-and-pop distributor, I take a look at them, and I usually wind up doing business with them."
Challengers Comics' 2017 Supplier List
About Comics
Rosie Accola
Todd Allen
Alon Avissar
Ata-Boy
Bad Karma
Baker & Taylor
Celina Barajas
Rachel Bard
BCW Supplies
Beadro Dan Dougherty
Andrea Bell
Big Bad Toystore
Shawn Bowers
Brinwins Minions Toonhound
Lauren Burke/Monica Ras
Jessica Campbell
Ali Cantarella
C+D Visionary
Candy Guy
Don Cardenas
Check Please
Cloverkin
Sage Coffee
The Collective Toys
Matt Collin
Patrick Collins
Dark Horse Comics
ComixMix
Brian Crowley
ES Davies
Diamond Comic Dist.
Doctor Who Store.com
DoomCo Designs
Sean Dove
Jon Drawdoer
Drawn + Quarterly
Marie Enger
Entertainment Earth
Cat Farris
For Your Entertainment FYE
French Comics Assoc.
Furious Flair
German Glass
Chris Giarrusso
Corinne Halbert
Hasbro Toy Shop
Erica Henderson
Amber Huff
Sina Grace
Cathy Hannah
Hasbro
Hobby Link Japan
Johnny Wander
Ian.Freeze.Ink
IDW
Isabellas Creations
Kickstarter
Kotobukiya
Kriota Willberg
Jonathan LaMantia
Lapel Yeah
Kate Leth
Sheika Lugtu
Make Toys
Marty and Sarah Love Wrestling
Stephanie Mided
Miniworld
Mr. Greens Comics
My Comic Shop
Nakama Toys
Alex Nall
Nobrow
Mike Norton
Amy Peltz
Oni Press
Onrie Kompan Productions
Peachstate Hobby
Chloe Perkis
Phils Toys
Plasticgod
Pooetry
Poster Emporium
David F Precht
Quality Lapel Pins
Radiator Comics
Resist!
Revoltech
Rickmobile
Ashley Riot
Alex Rosado
Isabella Rotman
Rebecca Rothschild
Silent E Productions
Silver Drago
Southern Hobby
Melissa Sue Stanley
Super Emo Friends
Super Group Hugs
Stan Tanaka
TF Source
Think Geek
Lizzy Tiritilli
Tom Kelly Kittys
Topatoco
Toys R Us
Uprinting
We Love Fine
Bianca Xunise
Yeti Press