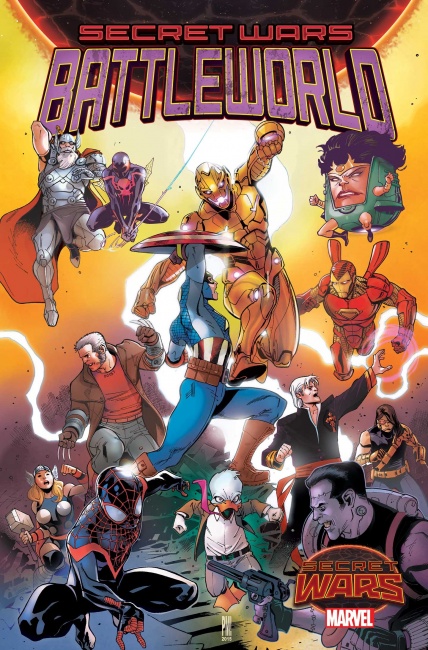 WizKids will release
Marvel HeroClix: Secret Wars
based on the Marvel Comics epic crossover event in October.
The Marvel Universes combine to form the collective Battleworld planet, run by the powerful "Barons" of each domain. There are new versions of the Avengers, Runaways and Captain America (featuring the Shifting Focus trait). Weirdworld will include Arkon the Magnificent, Man-Things, Witch Queen Le Fay, and Crystar. There are Wild West versions of Steve Rogers, Tony Stark, and Black Widow. Spider-Island includes new versions of the Iron Fist, Hulk, and Captain Marvel who will take on the evil Spider-Queen. The Thor Corps will introduce Dino Thor and Destroyer Thor, alongside Ultimate Thor. Characters new to the game include Kerik Killmonger, Regent, and Viv Vision.
The Booster set will include 16 Commons (plus 1 Prime), 16 Uncommons (plus 1 Prime), 16 Rares (plus 1 Prime), 12 Super Rares (plus 1 Prime) and 6 Chases. Each Booster includes 5 figures.
The Battleworld Fast Forces Pack will lince The Runaways, including all-new dials, and with two never-before-clixed characters: Alex Wilder and Klara Prast. The rest of the team includes Lucy in the Sky, Princess Powerful, Sister Grimm, and Talkback. MSRP is $16.99.
The Battleworld Dice and Token Pack will include 2 custom dice and 6 action tokens themed around Spider-Man, heroes, and villains from the Spider-Island domain. MSRP is $9.99.
For retailers, a Marvel HeroClix: Secret Wars – Battleworld Release Day OP Kit will be available. Each kit includes prizes to host a release date event with a prize for 1st, a fellowship award, and a flex award (awarded at stores discretion). The kit contains 3 limited-edition She-Hulk HeroClix figure with character card, 5 double-sided maps, 1 instruction sheet. Stores are allowed to request a maximum of 3 kits per store, unless otherwise noted. Kits are available only while supplies last, and may not be resold.
Marvel last ran a Secret Wars: Battleworld storyline in 2015 (see "'Secret Wars: Battleworld'") but the interdimensional crossover has a storied past (see "Giant 'Secret Wars' Slipcase Set").