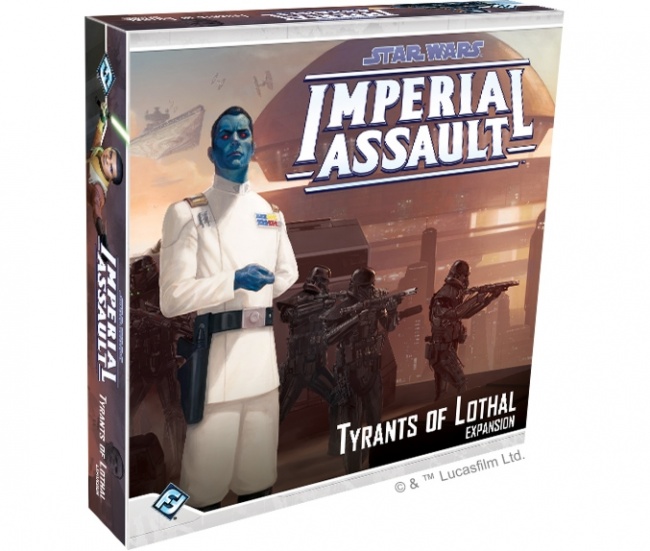 The infamous villain from the
Star Wars Rebels
series, Grand Admiral Thrawn
,
will soon appear in Fantasy Flight Games'
Star Wars: Imperial Assault
as the focus of the
Tyrants of Lothal Expansion
. The expansion will be supported with four smaller sets that feature the Grand Admiral and other characters from the series. All five sets are releasing in Q3.
Tyrants of Lothal is set on the Outer Rim world of the same name and follows the story of the Lothal Resistance and its efforts to overthrown the oppressive tyrant Thrawn. The expansion set offers the new hero characters, including the cybernetic Tress Hacnua, new enemies like the infamous Death Trooopers, and a six-part mini-campaign that includes the tiles and cards needed to play all six parts.
The missions in Tyrants of Lothal are designed to be played on their own or as part of a full campaign. The set also includes two skirmish missions based on the new tiles and new command cards to allow players to customize their heroes. MSRP is $44.95.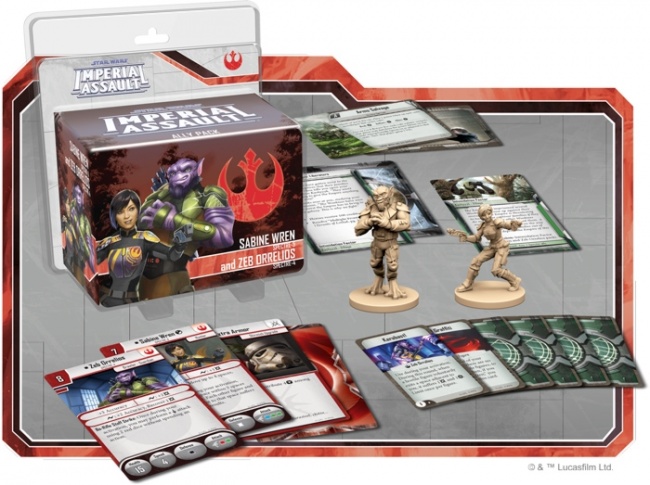 Additional heroes from
Star Wars Rebels
can also be added to the game through two Ally Packs releasing at the same time. The
Ezra Bridger and Kanan Jarrus Ally Pack
features these two force-using members of the Phoenix Squadron, while the
Sabine Wren and Zeb Orrelios Ally Pack
includes those more technically-minded rebels. Both Ally Packs are MSRP $15.95 each.
Their opposition are represented in two Villain Packs. The Thrawn Villain Pack features the Grand Admiral himself, while the Hondo Ohnaka Villain Pack adds that notorious pirate and his search for profit. The Villain Packs are MSRP $12.95 each.
See the Gallery below for images of the components from the new expansions.
Late last year, Fantasy Flight revealed a new way to play Star Wars: Imperial Assault using a new mobile app (see "FFG Unveils New App for 'Star Wars: Imperial Assault'").