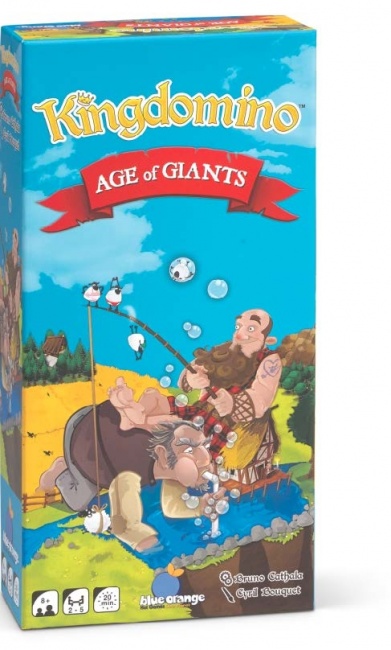 Blue Orange games will release a massive expansion for
Spiel des Jahres
winner
Kingdomino
this summer.
Kingdomino:
Age of Giants
releases in August, with a premiere at Gen Con.
Age of Giants add the option of a fifth player, and allows for more player interaction. If a player gets a tile with a giant on it, they add a giant meeple to their kingdom – covering any crown of their choosing. If a tile with a giant's footsteps comes up, the player must pass a giant meeple from their kingdom to another player's kingdom, who must then cover a crown in their domain. The expansion eliminates end of game bonuses. Instead, at the beginning of the game, each player draws challenge tiles, which provide new ways to get points.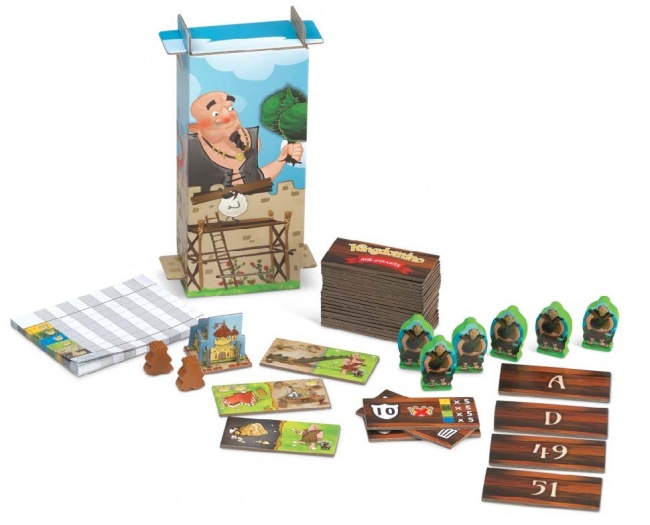 The box includes 1 domino dispenser, 1 score pad, 12 dominoes, 17 challenge tiles, 6 wooden giants meeples, 1 3D castle, 1 starting tile, 2 wooden king tokens, and illustrated rules. The game is for 2 – 5 players, ages 8 and up, and plays in 20 minutes. MSRP is $19.99. As an expansion, it requires the base game to play.
Bruno Cathala's (7 Wonders Duel, Five Tribes) Kingdomino won the prestigious German "Game of the Year" award last year (see "'Spiel des Jahres' 2017 Winners Announced"), and a stand-alone expansion Queendomino quickly followed (see "The Queen Stands Alone in 'Queendomino'").