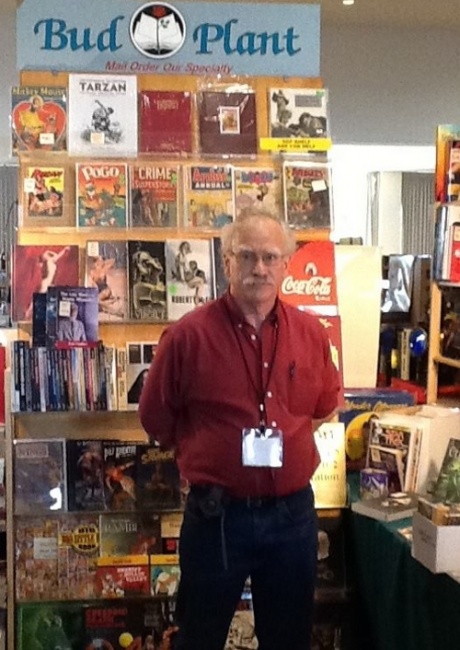 The times they are a-changing, as another long-time San Diego Comic-Con exhibitor with roots in the earliest days of the show announces that he will not exhibit this year. Bud Plant of Bud Plant Comic Art announced the move on his
Facebook page
. "After 48 consecutive years of exhibiting at Comic-Con, I am not going to set up this year, " he wrote. "I'll be there walking the floor, looking for new sketchbooks and other products, catching up with publishers, seeing friends, and, well, scouting for Golden Age comics as I always find time to do. But after long and hard debate, we here (LaDonna, Anne and our usual assistants) decided we had enough of the complicated and labor-intensive logistics of setting up there."
Plant's history included running up to 11 booths at the show until 2008, when a "disastrous" 40% drop in sales began a long period of declines that eventually led to a point where the small profits the show was bringing in wasn't worth the amount of work the show took to do, he explained in the post.
"It's nothing against the show itself," Plant said, lauding the treatment he'd received from show organizers. But as we've heard for years, since the Hollywood and video game presence became huge, the show's changing composition makes it less attractive for some of the old crowd. "The attendees these days are, in general, not our customers or they are not looking for books," Plant wrote. "Many former customers can't get tickets or have chosen to stop coming."
Last year, 44-year exhibitor Mile High Comics, which also had taken a huge amount of booth space at its peak, also called its quits, citing a similar change in the attendee base as one reason (see "
San Diego Comic-CON 2017 Wrap-Up
").