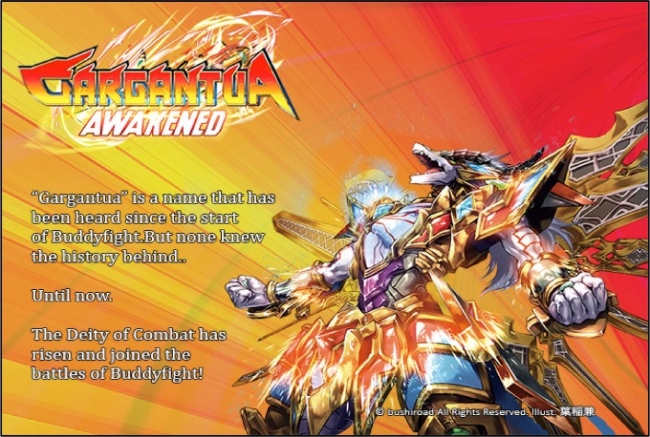 On August 3rd, Bushiroad will unleash the
Gargantua Awakened
booster set for its trading card game
Future Card Buddyfight
.
This expansion set is centered around the Deity of Combat itself, Gargantua, who appears for the first time in its full glory. The set includes cards from the Dragon, Danger, Star Dragon, and Ancient Worlds, with a total of 97 different card types, with 6 reissue cards. The rarity mix for this set will be 3 BR, 4 SP, 3 AR, 15 Secret, 8 RRR, 12 RR, 12 R, 16 U, and 24 C.
Gargantua Awakened
will be sold in 5-card booster packs. Each booster will include one card of R or higher rarity. The boosters are available in 30-pack display boxes, and each box will include one Secret pack and one each of the three AR cards. Some random packs will also have foil versions of common, uncommon, and rare cards.
Last month, Bushiroad released the
Buddy Legends
booster set for
Future Card Buddyfight
(see "
'Future Card Buddyfight' Adds Cards From GGG Cup
").