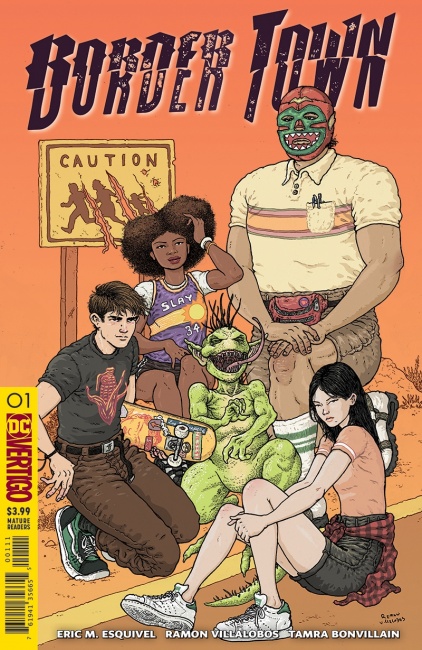 DC Comics is kicking off a line-wide relaunch of Vertigo in conjunction with the 25th anniversary of the seminal imprint. The new incarnation of DC Vertigo will be helmed by executive editor Mark Doyle, who returns to the imprint after overseeing the Batman group.
As part of the rebrand, DC Vertigo has announced four fall /winter titles and three titles to follow in early 2019.
Border Town
from writer Eric M. Esquivel (
Adventure Time, Starburns Presents
) with art and covers by Ramon Villalobos (
Nighthawk, America
) is set to debut in September. In the series, the border town of Devil's Fork Arizona finds itself on a different kind of border when a crack between worlds has the town beset by monsters from Mexican folklore.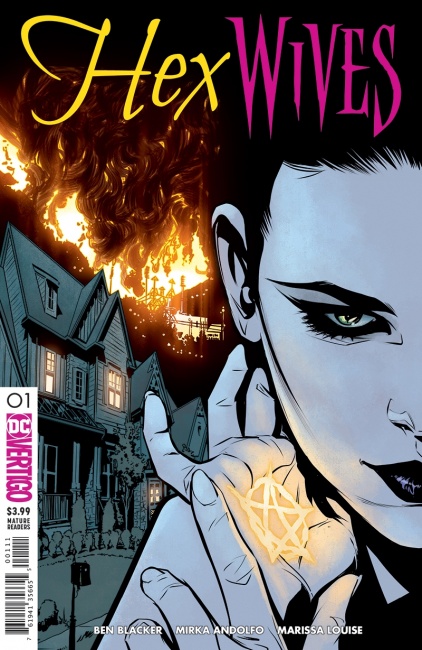 Writer Ben Blacker (co-creator of
The Thrilling Adventure Hour
) and artist Mirka Andolfo (
Wonder Woman; Shade, The Changing Girl
) have a Stepfordian tale planned for October. In
Hex Wives
, a coven of witches is brainwashed by a cabal of men, but it's only a matter of time before the women remember their power.
A white-passing biracial man will go undercover in a violent white supremacist group in November's
American Carnage
from writer Bryan Hill (
Michael Cray, Titans
digital show) and artist Leandro Fernandez (
The Names, The Punisher Max
).
Writer Zoë Quinn (
Crash Override
) and artist Robbi Rodriguez (
Spider-Gwen
) imagine an AI-popwered near future where a group of super-powered women and horrific monsters battle for the cheat codes to reality.
Goddess Mode
kicks off in December.
In
High Level
from writer Rob Sheridan (former art director for Nine Inch Nails) and artist Barnaby Bagenda (
The Omega Men, Green Lanterns
), a far-future, self-interested smuggler must deliver a child messiah to a mythical city at the top of the world. The series debuts in 2019.
Safe Sex
, another 2019 release, is from writer Tina Horn (host/producer of
Why Are People Into That?
podcast) and artist Mike Dowling (
Unfollow
,
2000 AD
). In the dystopian tale, a ragtag team of sex workers fights for freedom in a world where sex is regulated and policed by the government.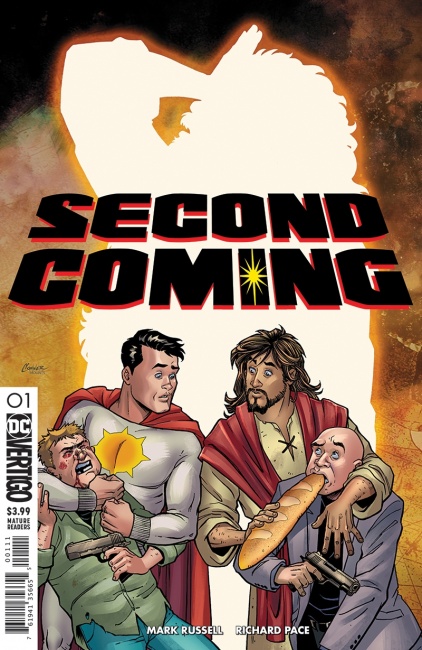 Mark Russell (
God Is Disappointed in You, The Flintstones
) and artist Richard Pace (
Imaginary Fiends
) imagine a God sends his only son Jesus to Earth to learn the family business from a superhero.
Second Coming
is out in 2019.
In the last 25 years, Vertigo has released some of the most influential titles in comics, including Neil Gaiman's
The Sandman
(which is itself getting its own universe starting in August; see "
Preview: The 'Sandman Universe' Series Artists
"), Garth Ennis and Steve Dillon's
Preacher
, Brian K. Vaughan and Pia Guerra's
Y: The Last Man
, and many other cutting edge titles that appealed to adult audiences. The line started in 1993 under the guidance of Karen Berger until she left DC in early 2013 (see "
Karen Berger Leaving Vertigo
"). Shelly Bond (see "
Shelly Bond Out at Vertigo
") edited the imprint until 2016, after which it was briefly guided by Jamie S. Rich before Doyle assumed the reins.
Click on the Gallery for cover images.