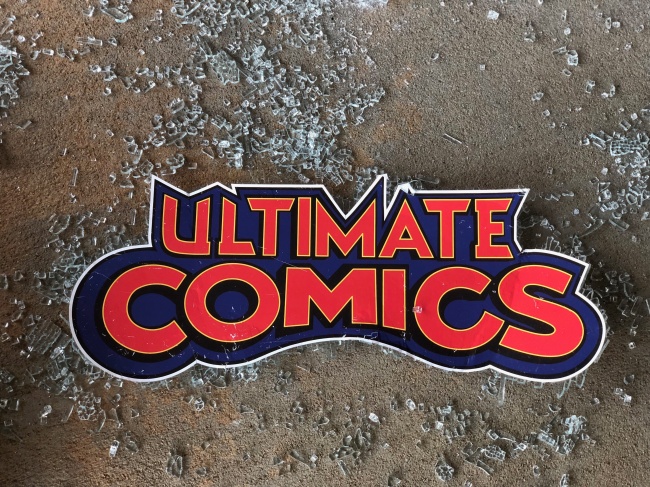 On June 10, all three Ultimate Comics store locations in the Raleigh, North Carolina area were burglarized, with more than $20,000 of collectibles, comics and merchandise taken.
According to a statement for Ultimate Comics, the store's windows were broken for entry and glass display cases were smashed. Chris Poirier, who manages the Cary location, told ICv2 via email that "It appears to have been one individual who traveled to all three stores." Ultimate Comics has three locations: in Raleigh, Cary, and Durham /Chapel Hill. Each is approximately a 20 – 35 minute drive from other locations. Poirier also said the thief appeared to be targeting high-end Sideshow Collectibles Hottoys figures, though some comics were taken as well (see list below).
Owner Alan Gill was pragmatic about the situation, noting in a statement that no one was hurt, and the stores are boarded up, being cleaned, and will be open for business on Monday. If anyone has information on the situation they may contact him via email, all information will be considered confidential. Ultimate Comics is asking customers to consider picking up an extra book or trying a new title to help get the stores through this incident. They asked that those who live too far away to stop by consider pre-ordering their exclusive
Batman
#50 cover illustrated by Nick Derington.
Hot Toys and Collectibles:
Hot Toys - Rocket
Hot Toys - Joker Suicide Squad
Hot Toys - Captain Phasma
Hot Toys - First Order Stormtrooper Officer
Hot Toys - Stormtrooper
Hot Toys -Force Awakened Luke
Hot Toys - Freddy
Hot Toys - First Order Stormtrooper and Officer (2 Pack)
Hot Toys - Darth Vader
Hot Toys - Harley Quinn Suicide Squad Prison
Avengers: Age of Ultron - Hulk Deluxe
Ant-Man
Spider-Man: Homecoming - Homemade Suit Version
Iron Man - Mark 1 Suit - MMS80
Netflix: Daredevil - Punisher
GotG2 - Rocket (Deluxe Version)
Star Wars - Finn
The Joker
Arkham Asylum: The Joker (Purple Coat Version)
Deadshot
Stan Lee
Groot Life-size figure by Hot Toys Guardians of the Galaxy 2
Spider-Man: Homecoming - Homemade Suit Version
Hawkeye Sixth Scale Figure- Civil War 2
Bucky Sixth Scale Figure- Civil War 2
Daredevil Sixth Scale Figure by Hot Toys
Batman Sixth Scale Figure by Sideshow
Doctor Strange Hot Toy- Doctor Strange
Punisher Sixth Scale Figure by Hot Toys
Daredevil Sixth Scale Figure by Sideshow Collectibles
Finn Sixth Scale Figure by Hot Toys
Comic Issues:
Babyteeth #1 lenticular
Captain Marvel #21
Captain Marvel #28
Shazam #8
Doctor Strange #169
Incredible Hulk #292
Iron Man #282
Mighty Thor #337
New Mutants #98 (2 copies)
Punisher #1
Silver Surfer #1
Suicide Squad #1
Uncanny X-Men #125
Uncanny X-Men #141
X-Factor #5
X-Factor #6