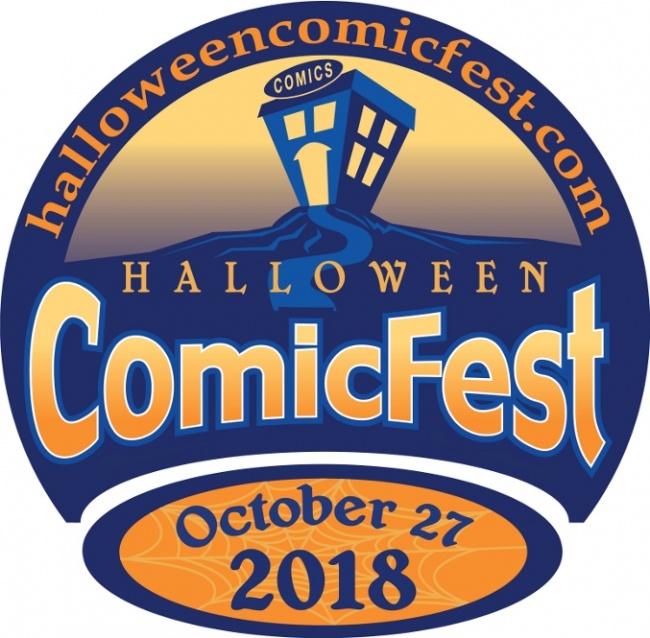 Diamond Comic Distributors announced the titles for this year's Halloween ComicFest (HCF) which takes place on Saturday, October 27 at participating comic shops. This year, 34 Halloween and horror-themed comics and mini comics will be offered.
There are 22 full size and 12 mini comic titles available. Participating retailers may also purchase HCF Mini-Comic Polypacks for retail sale to customers. These 25- unit polypacks are intended as giveaways for trick-or-treaters or as party favors are available for $4.99 at the beginning of October.
This year's HCF Commemorative T-Shirt is illustrated by Eisner Award-winning creator Eric Powell (
The Goon
).
"The comics available this year reflect a broad range of tastes. The All-Ages Mini Comics feature popular characters like Rocky & Bullwinkle, Archie, and the Teenage Mutant Ninja Turtles, while the Full-Size Comics feature well-known properties like Hellblazer, Spider-Man, and Goosebumps," said HCF spokesperson Ashton Greenwood.
(See full title listing below and covers in the attached Gallery!)
Halloween ComicFest 2018 Full Size Comics:
Princeless: Raven: Pirate Princess
(Action Lab)
Danger Doll Presents: Amalgama Lives!
(Action Lab - Danger Zone)
A Walk Through Hell #1 Special Edition
(Aftershock Comics)
Genesis: The Edgar Rice Burroughs Universe
(American Mythology)
Howard Lovecraft And The Kingdom Of Madness
(Arcana Studios)
Jughead: The Hunger #1 Special Edition
(Archie Comics)
Aspen Comics Presents: Aspen Mascots
(Aspen Comics)
Lady Mechanika: La Dama De La Muerte
(Benitez Productions)
Hellboy and The B.P.R.D.: 1953 - The Phantom Hand & The Kelpie
(Dark Horse Comics)
John Constantine: The Hellblazer
#1 (DC Entertainment)
Goosebumps: Monsters at Midnight
(IDW Publishing)
W.I.T.C.H.
#1 (Jy)
Battle Angel Alita: Homecoming
(Kodansha Comics)
Ms. Marvel
#1 (Marvel Comics)
Superior Spider-Man
#1(Marvel Comics)
Thor
#1 (Marvel Comics)
Hilo: The Boy Who Crashed To Earth
(Random House Books For Young Readers)
Monstrous: Three Monsters and A Baby One-Shot
(Source Point Press)
Aposimz Sampler
(Vertical Comics)
Frankenstein: Junji Ito Story Collection Sampler
(Viz Media)
Shibuya Goldfish Vol. 1
(Yen Press)
Windmaker: Birth Of A King
(Youneek Studios)
Halloween Comicfest 2018 Mini Comics:
Vamplets: The Undead Pet Society: Help The Pony!
(Action Lab)
Spookhouse Sampler
(Albatross Funnybooks)
Rocky & Bullwinkle Adventures
(American Mythology)
Archie's Madhouse Mayhem
(Archie Comics)
Over The Garden Wall And Into The Unknown
(Boom! Studios)
Nancy Drew
#1 (Dynamite Entertainment)
Johnny Boo and The Spooky Tree
(IDW Publishing)
TMNT: Rise Of The Teenage Mutant Ninja Turtles
(IDW Publishing)
Ghost Friends Forever
(Papercutz)
Hollow Fields Sampler
(Seven Seas Entertainment)
Splatoon
(VIZ Media)
Z-Z-Z-Zombie Boy Vol. 1
(Yen Press)