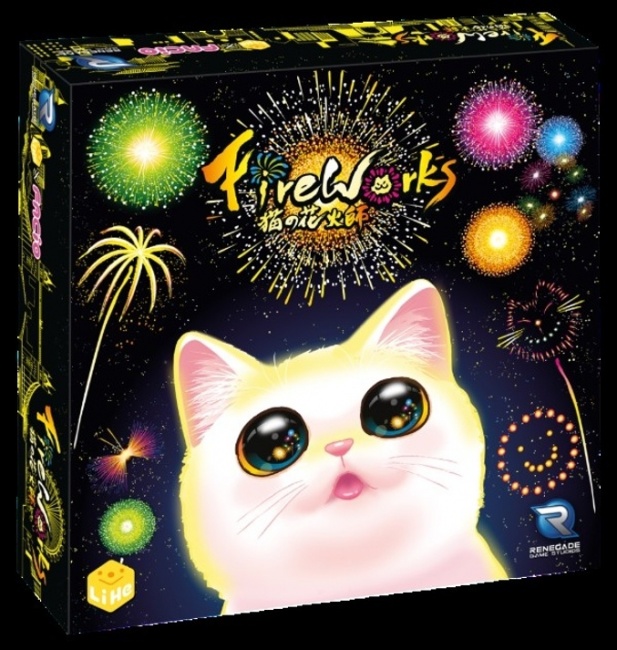 Renegade Game Studios will release
Fireworks,
an adorable new dexterity game designed by Aza Chen, in September.
Chen is the designer of
Cat Tower, Kitty Paw, Shiba Inu House, Doggy Go!
and
Circus Puppy
(see "
Renegade Plans 'Circus Puppy'
"). In
Fireworks,
a group of cats have been training hard to master the art of shooting off the biggest and best fireworks display. While they are still novices, they hope to be masters one day.

Players collect firework tiles and arrange them on their city board to create dazzling displays. On a player's turn, they launch the fireworks die out of a cup/barrel and into the box, where all the unclaimed facedown fireworks tiles rest. Based on how the die hits the box, the pile will be disrupted, and several tiles will likely flip over, revealing their designs. The player will take these new firework tiles to add to their city board. The end of the happens when a player fills their entire city board. The winner is the player with the most valuable fireworks display. The game includes optional action cards, which add silly rules that add variety to the game, and there are also advanced and speed variants for more challenging matches.
The box includes 4 city boards, 4 player aids, 1 start play marker, 7 character cards, 7 score markers, 1 starry sky box, 50 action cards, 119 fireworks tiles, 1 fireworks die, 1 launch barrel and a rulebook. The game is for 2 – 4 players, ages 6 and up, and plays in 20 minutes. MSRP is $25.00.