At the American Library Association (ALA) Annual Conference & Exhibition in New Orleans, Wizards of the Coast was showing off resources to help librarians and teachers start
Magic: The Gathering
clubs in libraries and schools.
"We've created some kits for schools and libraries to start Magic clubs," said a Wizard's representative. "They're free resources for them. Included in the [Welcome to
Magic
] kits, ...we have 20 welcome decks which are our basic level, 30-card decks. Two decks in each box, so two people can play. All you need is one deck."
At the ALA Conference, sample decks were being given away at registration. More copies were available at the WOTC booth in the Gaming Pavilion. "It comes with a play mat, so you understand the structure of how the cards are laid out. It comes with this learn to play flip book. This is what they see on the front with the graphic. On the back, it has step by step instructions."
"As an educator, you don't have to know how to play the game in order to start the club," she continued. "This will walk you through everything that you need. It also has resources on how to get started, score pads, posters to advertise the information. You can put that up to attract people to your club."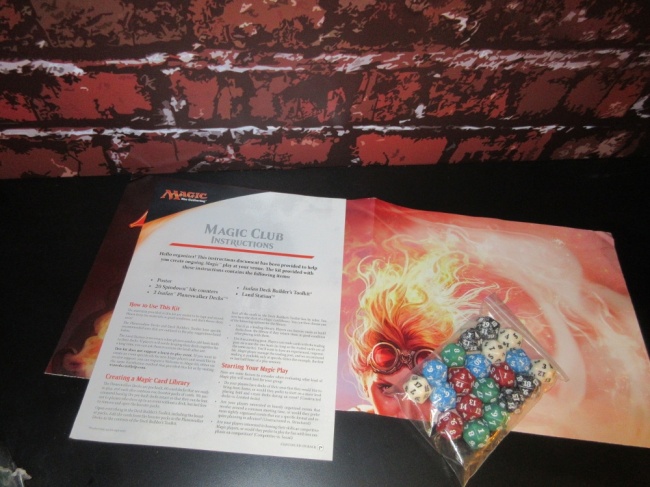 The kits are free to libraries and schools. The program launched last year, and currently has over 800 libraries that have signed up. The
Welcome to Magic Kits
are available directly from the company. Librarians or educators my go on the
Magic: The Gathering
website, find the Magic Club Support Program, and follow instructions to sign up for an account. It takes four to six weeks for the kit to arrive.
If the program proves popular, there is also a more advanced club, called Magic Club. "Once people get interested in the game, then you move forward," the representative explained. "These cards here are 30 cards. The ones we have over there are 60. They're double the size. They come with boosters, which is how we sell our product. That teaches you how to deck‑build. It's information on putting new decks together, customizing them to how you want to play."
For Wizards of the Coast, its not just about recruiting new players. "We also believe in the fundamentals of
Magic. Magic
was made by a mathematician. The game teaches reading comprehension, mathematics, strategy, and social interaction."