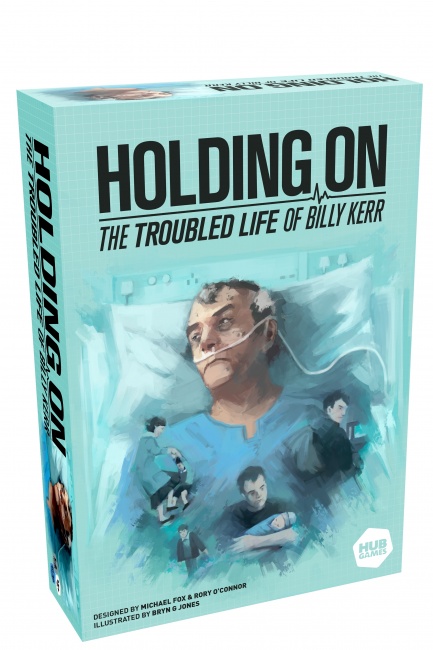 Hub Games has announced the cooperative mystery board game
Holding On: The Troubled Life of Billy Kerr
, which will be distributed through Asmodee starting in October.
In Holding On, the players are the medical staff tasked with easing the last few days of the terminally ill Billy Kerr following a massive heart attack. They must try to keep Billy around long enough to help him reveal the story of his troubled past so he can finally confront his lifelong regrets.
The game includes 10 replayable scenarios, during which the players provide needed medical care, respond to emergencies, and try to earn Billy's trust. If they can guide their patient through his three regrets, they win the game.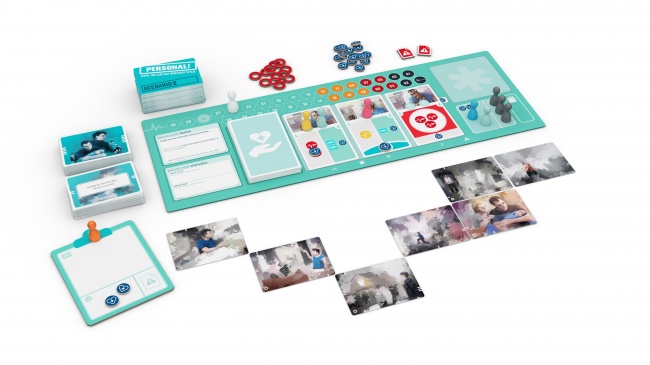 Holding On: The Troubled Life of Billy Kerr
comes with 1 game board, 1 shift manager board, 181 cards, 10 pawns, 46 tokens, and 1 tile. The game is intended for 2 to 4 players, ages 14 and up, and takes a little less than an hour to play. MSRP will be $40.00. It was created by Michael Fox (
Fox & Chicken
) and Rory O'Connor (
Rory's Story Cubes
), and features illustrations by Bryn G. Jones.
Hub Games, formerly known as The Creativity Hub, is the design studio behind the hit Rory's Story Cubes, which was sold to Asmodee in 2017 (see "'Choose Your Own Adventure' Game, 'Princess Jing,' 'Get Packing,' More"). The company's relationship with Asmodee continues, with Asmodee's North American branch handling distribution of Hub's new game.