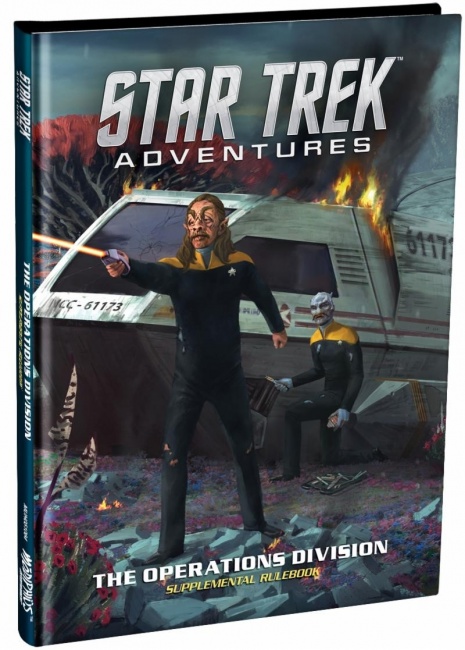 Players of Modiphius Entertainment's
Star Trek Adventures
can boldly go with greater variety of characters when the company releases
The Operations Division Supplemental Rulebook
in November.
This will be the second
Division Supplemental Rulebook
for the game, following
The Command Division
book (see "
Details of New 'Star Trek Adventures' Releases Emerge
").
The Operations Division
focuses on the famous "red shirts" of Starfleet Security, as well as the Starfleet Corps of Engineers, Starfleet Intelligence, and the secretive Section 31. In addition to new character archetypes, the book offers new equipment options and rules for adding them to the game, as well as guidance for gamemasters who want to run a campaign that focuses on Starfleet Operations and an assortment of NPCs. The book also includes
Red Alert
rules for resolving miniatures-based combat using a streamlined version of the games' 2d20 system.
The Operations Division
book was produced by lead writer Chris McCarver (
Marvel Cinematic Universe Guidebook
) and includes material written by Andrew Peregrine (
Doctor Who: Adventures in Time and Space
), Jack Geiger (
A Song of Ice and Fire RPG
), John Snead (
Blue Rose
), and
Star Trek Adventures
line developer Sam Webb. The
Red Alert
rules were developed by Mark Latham (
The Walking Dead: All Out War
) and Sam Webb. The book will be available in hardcover with an MSRP of $34.99. Customers who pre-order the book will also be eligible for a PDF copy, which will be available beginning in September.
The third
Division Supplemental Rulebook
, focusing on the Sciences Division, is scheduled to release in January.
In November, Modiphius will release a boxed
Starter Set
for the game as well (see "
'Star Trek Adventures – Starter Set'
").