The latest geek movie update is chock full of casting news and more.

Joaquin Phoenix has been locked in to play the Joker in a film directed by Todd Phillips (The Hangover series). Phillips co-wrote the screenplay with Scott Silver (The Fighter), and the Warner Bros. film will reportedly tell a gritty origin story. Production is expected to begin later this year. The film, which was announced as in development last fall (see "'I Kill Giants' Poster, 'Alita' and 'Predator' Pushed Back, Chris Columbus Goes to 'Freddy's,' 'Joker' Joaquin Phoenix?, No Goyer for 'MOTU'"), is unrelated to the universe established by Suicide Squad and the Jared Leto Joker film that was confirmed in June (see "Jared Leto's Joker Film Confirmed").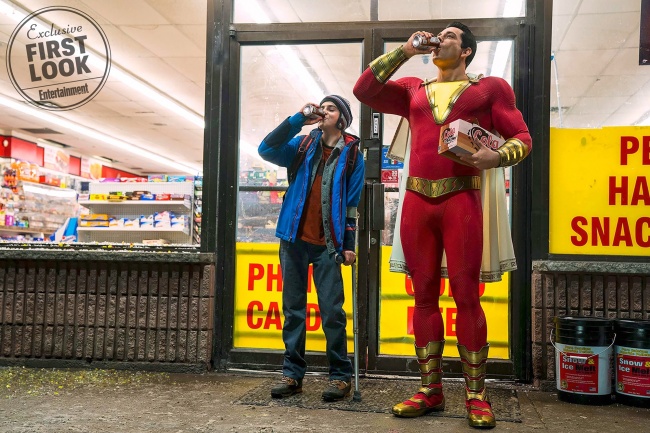 Shazam!
has made it official -- an official first look, that is -- with an image shared by
Entertainment Weekly
. While we've gotten a sense of what Zachary Levi's take on the superhero will look like via leaked set photos and a marketing image shared by Levi himself (see "
Zachary Levi Offers Up First Peek at 'Shazam!'
"), now we have our first good look at Billy Baston's best friend Freddy and the full Shazam costume, which is reportedly inspired by both the Golden Age version of the character and DC's "New 52" take. The film, which also stars Mark Strong and Djimon Hounsou, bows on April 5, 2019 (see "
Best in Shows--Q2 2019
").
Creepy ventriloquist dummies, a menagerie of monsters, and toothy gummy bears are center stage in the trailer for kid-friendly horror flick
Goosebumps 2: Haunted Halloween
. The sequel to the well-received 2015 film from Sony Pictures that starred Jack Black (see "
'Goosebumps' Tops, 'Crimson Peaks' Flops
") is based on the work of R.L. Stine and stars Jeremy Ray Taylor (
IT
) and Caleel Harris (
Castle Rock
).
Goosebumps 2
is directed by Ari Sandel (
The DUFF
) and will be in theaters in October 12.
Director Neill Blomkamp (
District 9, Chappie
) will be bringing justice back to the streets of Detroit in
RoboCop Returns
. Justin Rhodes (
Terminator
) is rewriting a script that was drafted several years ago by original
RoboCop
scribes Ed Neumeier and Michael Miner, according to
The Hollywood Reporter
. The new film will reportedly pick up after the events of Paul Verhoeven's now classic original, eschewing the two lesser sequels and the 2014 reboot.
Billy Dee Williams will be returning to class up the
Star Wars
joint. The actor is resuming the cape of Lando Calrissian in
Star Wars: Episode IX
(via
THR
). While Williams hasn't played Lando on screen since
Return of the Jedi
, he has lent his voice to cartoons and video games featuring the character. The film is directed by J.J. Abrams (see "
'Star Wars: Episode IX' Finds Director / Writer
") and stars Daisy Ridley, John Boyega, Oscar Isaac, and Adam Driver.
Episode IX
opens December 20, 2019 (see "
Best in Shows--Q4 2019
").
Speaking of
Episode IX
,
Felicity
and
The Americans
alum Keri Russell is also joining the cast as an unidentified character, according to
Variety
. The role is reportedly action-heavy, and given that Russell has most recently been playing a Russian sleeper agent and has previous action experience in
Mission Impossible III
and
Dawn of the Planet of the Apes
, she should be well-suited for the role, whether it's on the side of the Resistance or with the First Order.
Jeremy Renner (
Avengers, Mission Impossible
) has joined the cast of Todd McFarlane's directorial debut,
Spawn
, reports
THR
. Renner will play Twitch Williams, one of the few honest cops in an otherwise corrupt police force and eventual ally to Spawn. Jamie Foxx is playing the lead character (see "
'Spawn' Adaptation Lands Oscar Winner Jamie Foxx
"), and production is expected to begin this fall.