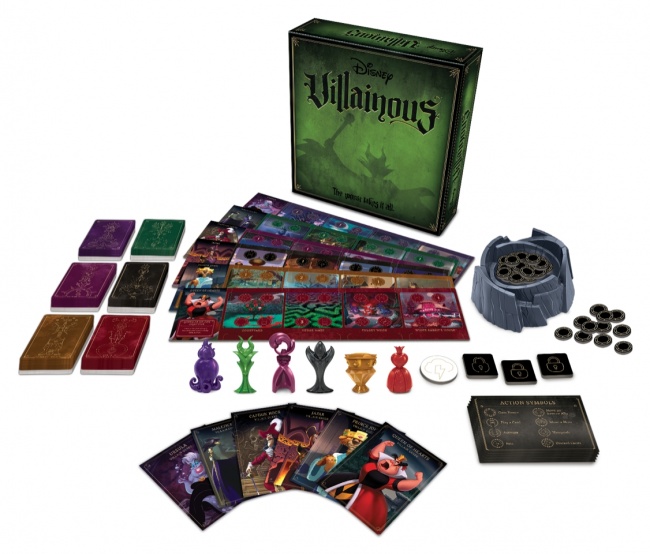 Ravensburger North America's Wonder Forge will release
Disney Villainous,
a board game where it's good to be bad.
Players cate control of one of six iconic Disney Villains (Maleficent, Ursula, The Queen of Hearts, Jafar, Prince John, or Captain Hook) and then dispatch henchmen, foil the heroes, and bring their evil plan to fruition. There are story-based gameplay elements directly from the classic Disney Films (
Sleeping Beauty, The Little Mermaid, Alice in Wonderland, Aladdin, Robin Hood,
and
Peter Pan
) that allow players to experience familiar stories in a whole new way. Players pick a villain, place them on their spot on the board, and take actions based on choices presented. Players will have to plot carefully, to gain the power, play cards, and defeat the heroes. Of course, true Villains also interfere with opponents' plans as well. The first Villain to achieve their objective wins.
The box contains: 6 boards, 6 villain movers, 180 villain cards, 90 fate cards, 84 tokens, 6 reference cards, 6 villain guides, and instructions. The game is for 2 – 6 players, ages 10 and up, and plays in 50 minutes. The game will arrive in hobby stores, as well as Target, Walmart, Amazon, and Barnes & Noble, on August 1. MSRP is $34.99. The game will also be for sale and demo at Gen Con.