ReedPOP has added another component to its burgeoning schedule of events during New York Comic Con week with the announcement of Anime Fest @ NYCC x Anime Expo, a new four-day event at Pier 94 in New York City. Pier 94 is about 15 short blocks due north of the Javits Center, where New York Comic Con is held. Anime Fest tickets will be sold as single-day badges for $20-$25 per day, with a $5 discount for NYCC badge-holders. The dates of Anime Fest @ NYCC x Anime Expo will be October 4-7, the same as New York Comic Con.
The new event represents a partnering between ReedPOP, organizers of New York Comic Con (and many other events) and The Society for the Promotion of Japanese Animation, which organizes Anime Expo. The recently completed Anime Expo in Los Angeles, the largest anime gathering in North America, attracted 110,000 unique visitors (350,000 turnstile) to the Los Angeles Convention Center to see 524 exhibitors and over 800 hours of programming.
Anime Fest @ NYCC x Anime Expo will be only a few short weeks before Anime NYC, which will be held November 16-18 at the Javits Center. Anime NYC, now in its second year, is organized by LeftField Media (run by Reed alum Greg Topalian) in conjunction with anime streaming powerhouse Crunchyroll (see "Crunchyroll Announces New Anime Con").
Although the anime presence at NYCC was not huge, moving anime events off-site will ease some of the pressure on the Javits Center, which is painfully crowded throughout the con, and allow for growth of the category. Sadly, it will probably also move some of the most interesting cosplay from the Javits up to Pier 94.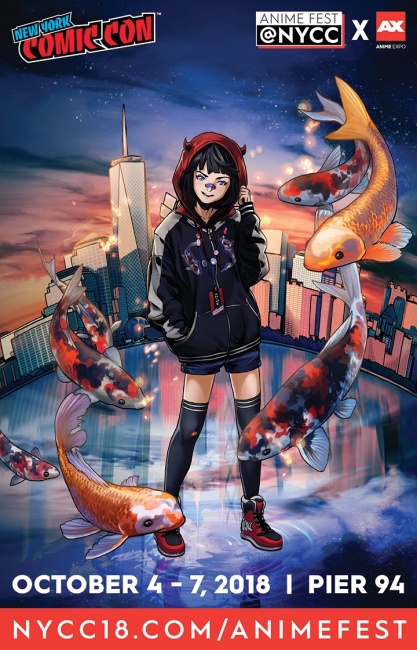 ReedPOP Global President Lance Fensterman noted the partnership and the opportunity to grow the anime presence in his statement. "With a partner like Anime Exo, we're excited to build upon our already robust anime content and create an experience that is unlike anything we've been able to deliver before," he said.
The SPJA note the opportunity to expand its reach in a statement by CEO Ray Chiang. "New York Comic Con provides us a tremendous opportunity to share many of the great experiences that Anime Expo already gives fans around the world," he said.