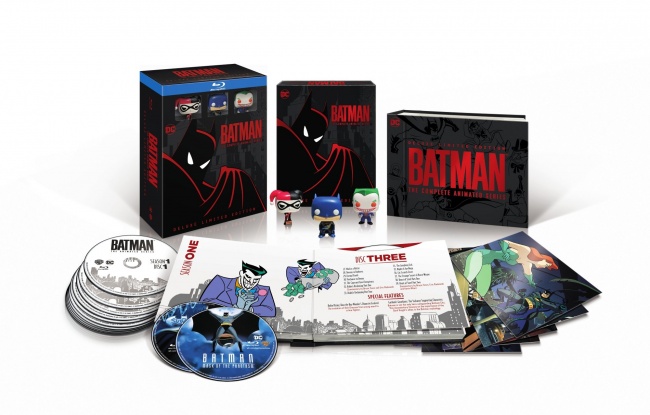 The immensely popular and acclaimed
Batman: The Animated Series
is getting a deluxe limited edition box set.
Batman: The Complete Animated Series Deluxe Limited Edition
will be available on digital streaming and as a Blu-ray box set on October 16. MSRP for the box set is $112.99.
The box set is limited to 30,000 individually numbered pieces. It includes all of the series episodes spread over two disks and two disks of bonus material, including the films Batman: Mask of the Phantasm and Batman & Mr. Freeze: SubZero; 11 selected episodes with audio commentaries from cast and crew; three Funko mini-figures of Batman, Joker, and Harley Quinn; and seven lenticular art cards. The set also includes a documentary and several featurettes about the series and characters. The box set is housed in a layflat book and slipcase.
The Emmy Award-winning series aired from 1992-1995 for a total of 109 episodes. Bruce Timm, Paul Dini, Alan Burnett, and Eric Radomski produced the acclaimed series, which featured the voice talents of Kevin Conroy (Batman), Efrem Zimbalist (Alfred Pennyworth), Robert Hastings (Commissioner Gordon), Loren Lester (Robin), and Robert Costanzo (Detective Harvey Bullock). Mark Hamill led the villain voice cast as the Joker. Richard Moll voiced Harvey Dent, Adrienne Barbeau voiced Catwoman, and Arleen Sorkin voiced Harley Quinn, who made her first-ever appearance in the animated series.
The show has been immensely influential, inspiring merchandise and other creative products. DC has a series of 6" figures based on Batman: The Animated Series planned for 2019 (see "Preview: DC Collectibles Releases for 2018-19"). IDW is also releasing a game based on the animated universe (see "'Batman: The Animated Series - Gotham Under Siege'") and the characters have joined HeroClix (see "'Batman: The Animated Series' Joins 'Heroclix'").