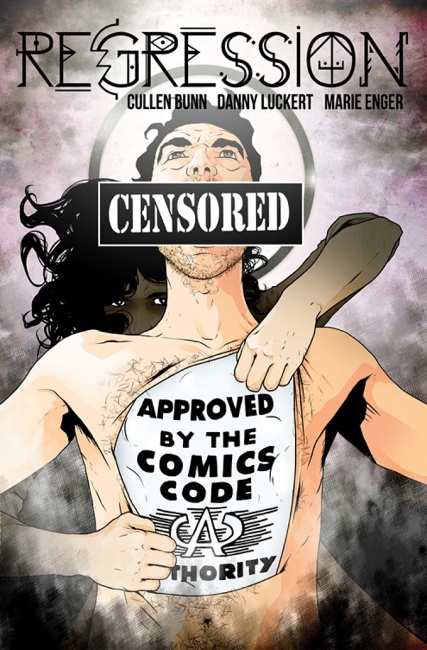 Image Comics is partnering with the Comic Book Legal Defense Fund (CBLDF) to fight censorship with a line of variant covers that benefit CBLDF's important legal work on behalf of comic creators, retailers, educators and readers.
All proceeds from this campaign with benefit CBLDF, and each CBLDF Charity variant cover will come in two versions – one censored by the Comics Code, and one uncensored.
A selection of the censored versions is viewable in the Gallery below.
The project is coordinated by Image Comics' Publisher Eric Stephenson and
Hack/Slash
creator Tim Seeley. The project includes work from Skottie Young, Mirka Andolfo, Howard Chaykin, Justin Greenwood, Geoffo, Ryan Browne, Wook-Jin Clarke, David Rubín, Martin Morazzo, Mark Torres, Danny Luckert, and Seeley.
Available on September 5 (FOC August 13):
Bully Wars #1 by Skottie Young & Aaron Conley, Cover D CBLDF Charity Variant Censored (Young)
Bully Wars #1 by Skottie Young & Aaron Conley, Cover E CBLDF Charity Variant Uncensored (Young)
The Last Siege #4 by Landry Q. Walker & Justin Greenwood, Cover C CBLDF Charity Variant Censored (Greenwood)
The Last Siege #4 by Landry Q. Walker & Justin Greenwood, Cover D CBLDF Charity Variant Uncensored (Greenwood)
Unnatural #3 by Mirka Andolfo, Cover C CBLDF Charity Variant Censored (Andolfo)
Unnatural #3 by Mirka Andolfo, Cover D CBLDF Charity Variant Uncensored (Andolfo)
Available on Wednesday, September 12 (FOC August 20):
Hey Kids Comics #2 by Howard Chaykin, Cover B CBLDF Charity Variant Censored (Chaykin)
Hey Kids Comics #2 by Howard Chaykin, Cover C CBLDF Charity Variant Uncensored (Chaykin)
Available on Wednesday, September 19 (FOC August 27):
Burnouts #1 by Dennis Culver & Geoffo, Cover B CBLDF Charity Variant Censored (Geoffo)
Burnouts #1 by Dennis Culver & Geoffo, Cover C CBLDF Charity Variant Uncensored (Geoffo)
Curse Words #16 by Charles Soule & Ryan Browne, Cover D CBLDF Charity Variant Var Censored (Browne)
Curse Words #16 by Charles Soule & Ryan Browne, Cover E CBLDF Charity Variant Uncensored (Browne)
Flavor #5 by Joseph Keatinge & Wook-Jin Clark, Cover B CBLDF Charity Variant Censored (Clark)
Flavor #5 by Joseph Keatinge & Wook-Jin Clark, Cover C CBLDF Charity Variant Uncensored (Clark)
Tim Seeley's Hack/Slash Resurrection #11 by Tini Howard & Celor, Cover C CBLDF Charity Variant Censored (Seeley)
Tim Seeley's Hack/Slash Resurrection #11 by Tini Howard & Celor, Cover D CBLDF Charity Variant Uncensor (Seeley)
Ice Cream Man #7 by W. Maxwell Prince & Martin Morazzo, Cover C CBLDF Charity Variant Censored (Morazzo)
Ice Cream Man #7 by W. Maxwell Prince & Martin Morazzo, Cover D CBLDF Charity Variant Uncensored (Morazzo)
Rumble #7 By John Arcudi & David Rubín, Cover C CBLDF Charity Variant Censored (Rubín)
Rumble #7 By John Arcudi & David Rubín, Cover D CBLDF Charity Variant Uncensored (Rubín)
Available September 26 (FOC September 3rd):
Cold Spots #2 by Cullen Bunn & Mark Torres, Cover B CBLDF Charity Variant Censored (Torres)
Cold Spots #2 by Cullen Bunn & Mark Torres, Cover C CBLDF Charity Variant Uncensored (Torres)
Regression #11 by Cullen Bunn & Danny Luckert, Cover B CBLDF Charity Variant Censored (Luckert)
Regression #11 by Cullen Bunn & Danny Luckert, Cover C CBLDF Charity Variant Uncensored (Luckert)