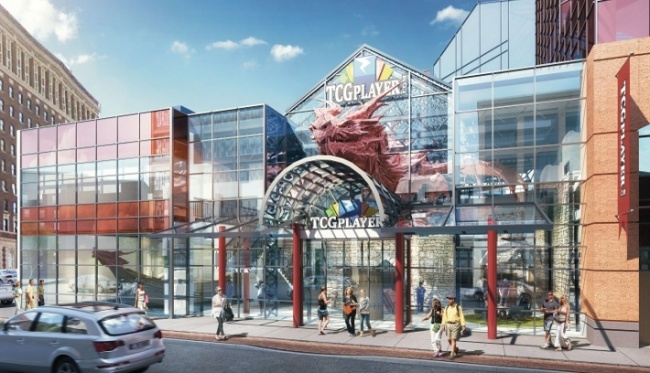 TCGplayer is currently retrofitting a building in downtown Syracuse, New York into a themed headquarters to showcase its business and accommodate a growing staff, turbocharged by its $10 million equity raise earlier this year (see "
TCGplayer Raises $10 Million
"). The company's new HQ will occupy 44,000 square feet in a single location, growing from around 27,000 square feet in five different buildings now. TCGplayer currently employs around 200 people in Syracuse, up from 14 four years ago.
The dramatic reconstruction, scheduled to open later this year, will feature a medieval castle visible from the street, along with a life-size dragon overhead. Employees will work in themed rooms tied to key fandoms.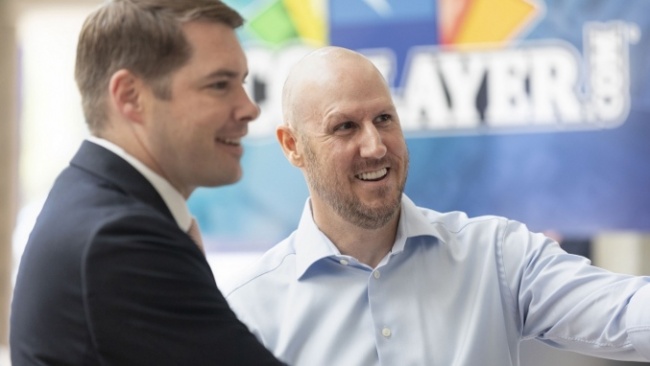 TCGplayer CEO Chedy Hampson told us that a main goal of the new headquarters is to create a visual symbol of the company that can be used to attract the kind of technical and management staff the company needs to grow. The company currently has 35 open positions, including two key management positions (GM of Seller Services and VP of Data Analytics) Hampson said will "have a huge impact on what we can build and provide local game stores."
"We're in Syracuse, New York," Hampson explained. "I think you can understand when you're three to four hours away from a major metropolis, you've got to draw attention to yourself. It's all about trying to catch the attention of that executive who might be in Silicon Valley or somebody in New York City or Boston… The move is basically tied to helping tell the story that we're building out a world class headquarters."
The company has laid out aggressive growth plans for additional features and product categories over the past two years. Hampson talked about that progress and the role the new headquarters will play in continued growth. "As we launched new features and more stores have joined our platform, we've seen that we have to continue to commit more and more resources towards supporting them and keeping all of that infrastructure up and running," he said. "What we saw, and the reason we sought the investment, is that we want to build support, and make sure that we don't slow down on building great features. We want to pick up that pace."
Click Gallery below for more pics of the new HQ.