Things start and end with The Walking Dead and in the latest geek TV roundup.
Follicly gifted Sons of Anarchy favorite Ryan Hurst is among The Walking Dead in season 9, playing Beta, the second in command of the Whisperers, according to The Wrap. Hurst also appeared on Bates Motel and Outsiders and was recently added to the cast of Bosch. The Whisperers first appeared in issue #130 of the comic series, and members of the group notably wear walker skins to blend in with the undead and stalk human enemies. Samantha Morton (Minority Report) is playing Whisperers leader Alpha. Season 9 debuts on October 7 (see "Preview: 'The Walking Dead' Season 9"), shortly before The Walking Dead Day at comic shops around the country (see "'The Walking Dead Day' Blind Bag Cover Artists Revealed").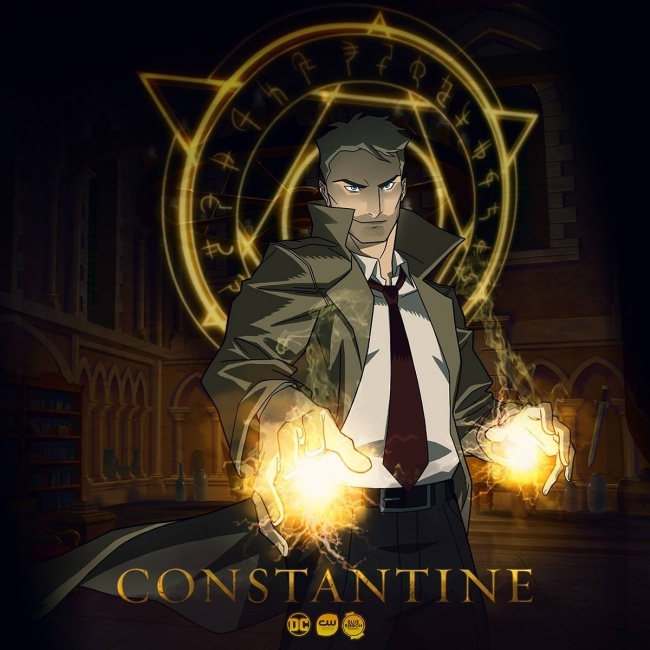 John Constantine is returning to prime time on October 15 with a special broadcast airing of
Constantine: The Legend Continues
, an animated digital series that originally aired on CW Seed. The special, which will be hosted by John Constantine actor (live action and voice) Matt Ryan, airs after the season debut of
Arrow
and prior to a sneak peak of the upcoming season of
Legends of Tomorrow
. Constantine has found a second life since the cancellation of the live-action series, showing up in animated series and now as a series regular on
Legends
(see "
Disney Wants 'Star Wars' TV Rights Back, Skybound Options 'Eclipse,' Timothy Hutton Joins 'Y,' Animated Constantine, 'Iron Fist' Season 2 Teaser
").
Gravity Falls creator Alex Hirsh has signed a deal with Netflix reports The Hollywood Reporter. Under the multiyear deal, Hirsch will create new series and features for the streaming giant's adult animated slate. Hirsh's popular animated series debuted on the Disney Channel in 2012, eventually moving to Disney XD and running for 40 episodes over two seasons. It has moved on to graphic novels, proving to be as popular in print as it was on TV (see "July 2018 NPD Bookscan - Top 20 Kids Graphic Novels"). Netflix has a number of animated projects on its roster, from Matt Groening's Disenchantment (see "Trailer for Matt Groening's 'Disenchantment,' 'Halo' Comes to Showtime, 'Gideon Falls' Optioned, 'The Gifted' Season 2 Sets Debut, More 'Star Trek,' Amazon Is 'Invincible'") to the upcoming She-Ra and Captain Underpants series (see "Noelle Stevenson Unveils 'She-Ra and the Princesses of Power'") and more.
Apple has placed a straight-to-series order for a show based on Isaac Asimov's seminal Foundation trilogy (via Deadline). Apple put the property into development in April, with David S. Goyer (Batman Begins) and Josh Friedman (Avatar 2, Terminator: The Sarah Connor Chronicles) on board to co-write, executive produce, and showrun (see "Netflix Orders 'V-Wars' With Somerhalder, Rocky & Bullwinkle Fly Again, More 'Jessica Jones,' Tig Notaro Joins 'Discovery,' Warren Ellis Series and Asimov's 'Foundation' Optioned"). Additional executive producers include David Ellison, Dana Goldberg, and Marcy Ross, as well as Asimov's daughter, Robyn Asimov.
TNT's adaptation of Snowpiercer has added The Walking Dead alum Steven Ogg to the cast reports Deadline. Ogg stars as Pike, a career convict and leader in the Tail of the perpetually-moving train that carries the last of humanity seven years after the world became a frozen wasteland. He joins Jennifer Connelly on the series, which is based on the 2013 film from Bong Joon Ho (itself based on the bande dessinee by Jacques Lob and Jean-Marc Rochette; see "'Astro City' And 'Street Fighter' TV Deals").
Amazon has released a trailer for the third season of The Man in the High Castle, which is based on Philip K. Dick's classic alternate history of the aftermath of World War II. Season 3, which stars Alexa Davalos, Cary-Hiroyuki Tagawa, Rufus Sewell, Luke Kleintank, and Chelah Horsdal, bows on October 5.