EN Publishing will release
Judge Dredd & The Worlds of 2000 AD
Roleplaying Game
in early 2019. The game is currently seeking funding on Kickstarter.
EN Publishing announced the license for the RPG last year around the same time as several other companies sharing new Judge Dredd related plans for the Rebellion 2000 AD property (see "'Judge Dredd: The Cursed Earth' Card Game"). Judge Dredd & The Worlds of 2000 AD uses the What's OLD is NEW (WOIN) game system which uses d6 dice pools to resolve actions and uses a "life path" character creation system. Players can choose to play a Judge, a Civilian, or a Perp from multiple character classes including humans, clones, robots, mutants, chips, gorillas and orangutans.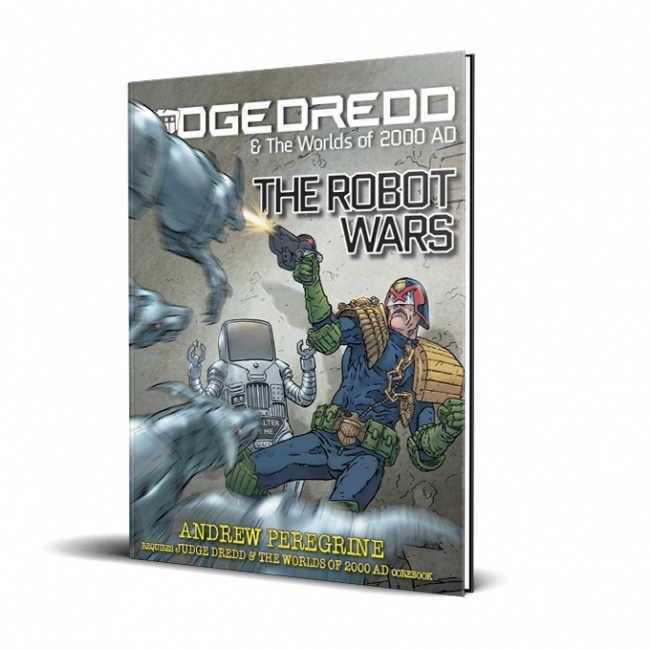 The products on offer include a full color 270-page hardcover
Core Rulebook, a Limited-Edition Rulebook
with a special Kickstarter-exclusive cover, the 100-page softcover
The Robot Wars
adventure and sourcebook, a
GM Screen,
and a
Counter Set
which includes nearly 100 color cardstock tokens representing player characters and their enemies.
The campaign met its $9,900 goal in less than 10 minutes and has raised more than $84,000 from more than 780 backers as of this writing, and will continue through October 25. There is a retailer pledge level for a $26 deposit for (at least) 4 copies of the standard core rulebook, with the rest due at fulfillment, currently listed as January 2019. EN Publishing had all products approved by Rebellion before launching, so the Kickstarter is facilitating the print run of materials.
Trade release will follow backer fulfillment.