Beloved Batman artist Norm Breyfogle passed away on Monday at the age of 58.
Born in 1960, Breyfogle began taking art lessons as a preteen and studied painting and illustration in college. His early work includes back-up stories in First Comics' American Flagg and Eclipse's Tales of Terror, and his first monthly was Whisper for First Comics.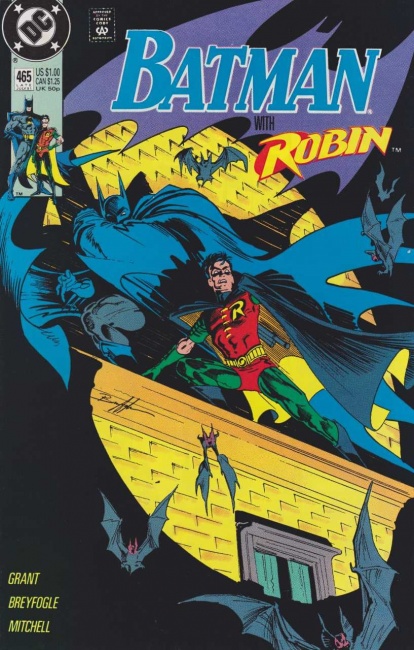 In 1987, Breyfogle began drawing the character that most people associate him with: Batman. He helped define the 1990s era of the character, partnering with writer Alan Grant on
Detective Comics
for a six-year run that saw the creation of the Ventriloquist and the Ratcatcher. He would draw several issues of
Batman
, helping to introduce the world to the Tim Drake version of Robin, before joining Grant on a new series,
Batman: Shadow of the Bat
. Breyfogle would draw for both series off-and-on until the late 1990s. During their
Shadow of the Bat
run, Breyfogle and Grant added three more characters to the Batman rogues gallery: Jeremiah Arkham, Mr. Zsasz, and Amygdala. Breyfogle would also draw the first DC comic to bear the Elseworlds logo,
Batman: Holy Terror
, and he would return to his signature character with
Batman Beyond Unlimited
starting in 2012 (see "
DC Goes Digital First
").
In 1993, Breyfogle joined Gerard Jones and Len Strazewski in creating Prime, a 13-year-old boy with the ability to transform into a superpowered adult, for Malibu Comics. He drew the first 12 issues of the series. During his career, Breyfogle would also work on individual issues or short runs of Catwoman, The Flash, Spectre, Superman, and Wonder Woman, as well as The Avengers, Black Panther, and Hellcat.
Breyfogle suffered a stroke in late 2014 and turned to crowdfunding to pay the resulting medical bills (see "Norm Breyfogle Suffers Stroke"). DC subsequently released a hardcover collection of the artist's work, Legends of the Dark Knight: Norm Breyfogle Vol. 1 (see "Norm Breyfogle Improving"). A second volume is due in late November.
Details on services are pending.
Several comics professionals took to Twitter to remember Breyfogle's contributions to comics.