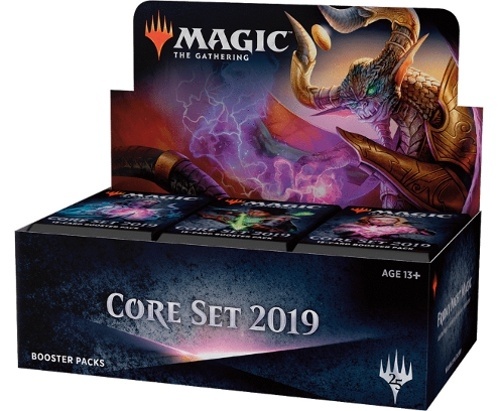 Wizards of the Coast has "formalized a direct relationship" with Amazon in the U.S., the company announced in an online post, and plans to institute similar relationships with the online stores of Walmart and Target.
Magic: The Gathering
has been sold online by Amazon and Walmart third-party sellers in the past, but not directly by either, and not at all by Target.com. Now under the new arrangements, all three of the top online stores in the U.S. will offer
Magic: The Gathering
products on their own behalf.
"The goal here isn't to divert customers to these channels," the announcement said, "it's to meet the customers who are already there and give them a better experience."
We checked current listings for
Magic: The Gathering 2019
on Amazon and found 27 third-party seller listings in addition to the listing from the Amazon store. Two stores had the lowest price, $87.55 with free freight to Prime members for a
Booster Box
($143.64 MSRP). The Amazon listing was 1 cent higher, at $87.56, and the rest of the listings were all at higher prices, up to $1000 a box (one of those "we only need to sell one" listings). Eleven of the third-party sellers were fulfilled by Amazon and eligible for free freight to Prime members, a purchasing experience almost identical to buying from Amazon.
For customers of online arms of the mass merchant retailers, the changes will be more substantial. At the time of this article,
M19
was only available from third-party sellers on Walmart, not from the retail giant itself, and all were shipped by the seller (at prices ranging from $99.74 to $109.99), while the product was not available at all on Target.com.
WotC listed four benefits of the formalized relationship:
The ability to better distribute product to players who aren't near game stores
The ability to market to players where they're already shopping
The ability to "make sure that Magic is represented in a way that is worthy of its awesomeness"
The ability to "grow the game for the entire world"
The company argued that those improvements will allow it to grow the player base and bring them into the player community in new way, promising "new initiatives that highlight the benefits of gathering together in a local store."

This is another move in broader changes to WotC distribution, which recently resulted in Wizards of the Coast ending its direct-to-retailer sales program (see "Wizards of the Coast Ends Direct Sales"), and the latest move is apparently not the last. "You will see more product and distribution experimentation from us in the future," the company said.