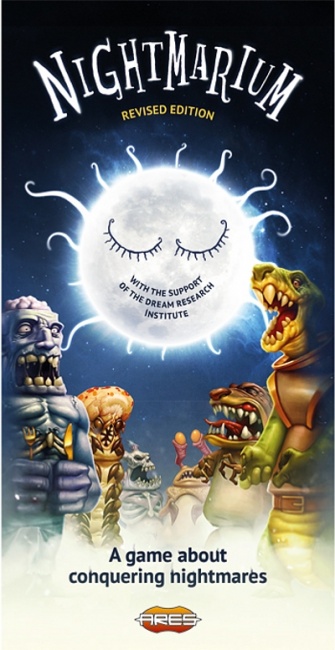 Ares Games is producing a new edition of Konstantin Seleznev's card game
Nightmarium
, set to release in January.
In
Nightmarium
, two to five players construct nightmarish creatures by combining cards that depict monstrous legs, torsos, and heads. When a player completes their three-part monster, they immediately use its abilities, possibly gaining new cards or destroying an opponent's monster. The first player to complete five creatures wins the game.
Originally published in Seleznev's native Russia,
Nightmarium
was brought to the English-speaking audience in 2016 by Russian game retail chain Mosigra through a modestly successful Kickstarter campaign that attracted $21,223 from 1,183 backers (an average of $17.94 per backer). Now Ares has acquired a license to produce the game and distribute it in the U.S. and other countries.
The
Nightmarium: Revised Edition
will include the
Legion of Horrors
expansion in the box, which introduces a new type of card to the game that players can use to "incarnate" their completed creatures to activate their abilities again and to protect them from other players.
The Ares edition will be available for preview at the
Spiel
fair in Essen, Germany later this month, prior to its launch after New Years. Details including MSRP have not yet been released.
Another Seleznev design is in production at Cryptozoic, slated for late 2018 (see "
Exalt a Deity to Supremacy in 'Cult'
").
Ares plans to release its
Battlestar Galactica – Starship Battles
in November (see "
First Details on 'Battlestar Galactica – Starship Battles'
").