Pinnacle Entertainment Group is turbo-powering its
Savage Worlds
role playing game system with the
Savage Worlds Adventure Edition
releasing in 2019. The game is currently seeking funding on Kickstarter and easily blew past its $15,000 goal on the first day.
The new Savage Worlds Adventure Edition is designed to power any game players design. Designed by Shane Lacy Hensley and first released in 2003, the Savage Worlds tabletop role playing game system carried the tagline "Fast! Furious! Fun!" The generic rules system focused on reduced preparation, with emphasis on speeding up play. The system can be adapted to many genre styles (pulp action, gritty noir, hard scifi, horror, space opera, supers), campaign settings (Deadlands, Weird Wars, Rippers, The Last Parsec) and modules including numerous licensed properties (Flash Gordon, The Sixth Gun, The Goon, Palladium Rifts.)
The new edition will be updated to match the graphic design, art, and size of current Pinnacle releases in a graphic novel format. The new book includes a new Chase rules system, a new Support rule to help friends, a combination of Tricks and Tests of Will into "Tests," ability to Repeat actions, and more. For dedicated fans, a backwards compatibility conversion guide will be made available to download for free to update Savage Worlds Deluxe releases. The book will have an MSRP of $39.99. The Kickstarter includes a $1 Merchant reward level which will allow verified retailers to order this book and other Savage Worlds stock at a discount. These backer orders will ship in June, with official retail release set for August.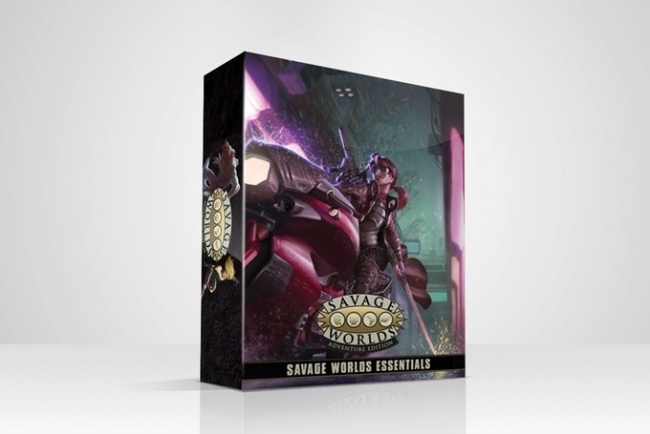 Also available as part of the Kickstarter is the fan-requested
Savage Worlds Essentials Boxed Set
,which includes an (at least) 32-page
World Builder's Guide
, a trifold landscape
GM's Screen, Powers Deck, Status Deck, Oversize Action Deck, Dice Set
with four custom Wild Dice, 25 Bennies, transparent acrylic
Cone and Blast
Templates
, and possibly more. There is also room in the case to store a copy of the
Savage Worlds Adventure Edition
(not included) MSRP is TBD.
The Kickstarter, which has raised more than $206,000 from more than 2,000 backers, as of this writing, and will continue through November 14.