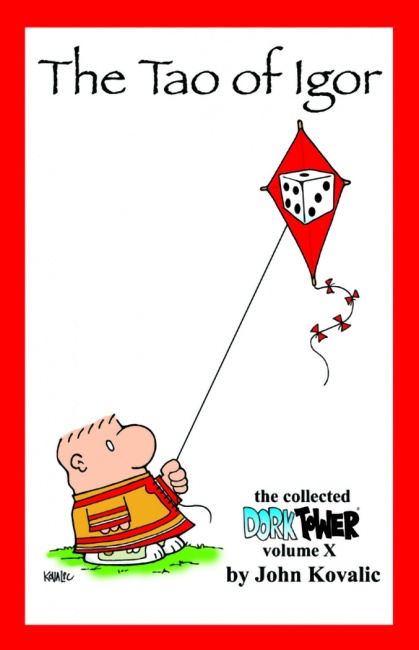 Dork Tower is returning to stands with the first new collection in more than a decade. The collection has already funded on Kickstarter, with four weeks left in the campaign.
John Kovalic's The Tao of Igor collects Dork Tower #30-33 and #36 (see "'Dork Tower' Comic Books Return"), none of which have appeared in other volumes. Tao also features brand-new material to ensure a self-contained storyline, and it lays the groundwork for future volumes of the series.
As of this writing, the Kickstarter campaign has raised slightly more than $20,000 on a $16,000 goal, and additional funds will go toward several stretch goals. The campaign includes two pledge levels for retailers. The volume will consist of at least 160 pages, with a fundraising stretch goal of 200 pages or more. The estimated delivery date for backers is February, with a trade release planned for March.
Kovalic also told ICv2 that there are plans to release new revised editions of previous collections in the future.
Kovalic launched Dork Tower as an online comic in 1997, and a print comic hit stands not long after. It centers on the geeky goings on in the fictional town of Mud Bay, Wisconsin, incorporating RPGs and other games, comic books, and pop culture nerdery. The series netted several Origins Awards in the early aughts, and the characters have made appearances in games such as Chez Dork, Dork Tower, and Munchkin from Steve Jackson Games; Warhamster Rally from Jolly Roger Games; and Zombicide from Guillotine Games (see "'Zombicide Season 3' Hits $2M").