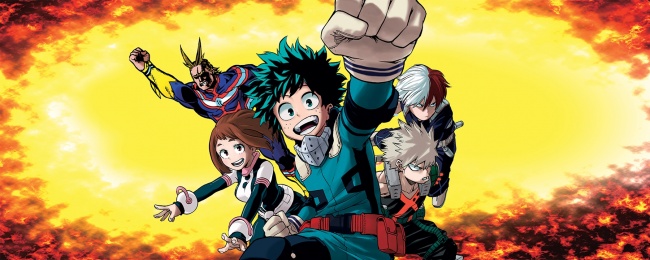 Best-selling manga
My Hero Academia
is getting a live-action adaptation. Legendary is producing the feature film based on the series by Kohei Horikoshi reports
The Hollywood Reporter
. Legendary's Alex Garcia and Jay Ashenfelter will oversee the film alongside Ryosuke Yoritomi with Shueisha, the Japanese publisher of the manga. Japanese distribution will be handled by Toho. Further details on plot and casting are pending.
My Hero Academia is set in a world where 80% of the population has special powers, or quirks. The main character, Izuku Midoriya, doesn't have any quirks, but he obsessively follows those who do in hopes of becoming a hero. After Izuku risks his life to save a friend, he earns the attention of the world's greatest hero, who shares his quirk with Izuku and gives him a spot at a high school for heroes-in-training.
VIZ Media has the license for the English-language edition of the manga series, with the 16th volume due in December. It has proved a consistent bestseller, with multiple volumes appearing on the top 20 sales charts for several months running (see "September 2018 NPD Bookscan - Top 20 Superhero, Manga, Author Graphic Novels"). The manga has also inspired a popular anime series and animated film. Shinobi 7 is releasing a card game based on the franchise later this year (see "'My Hero Academia: The Card Game'").