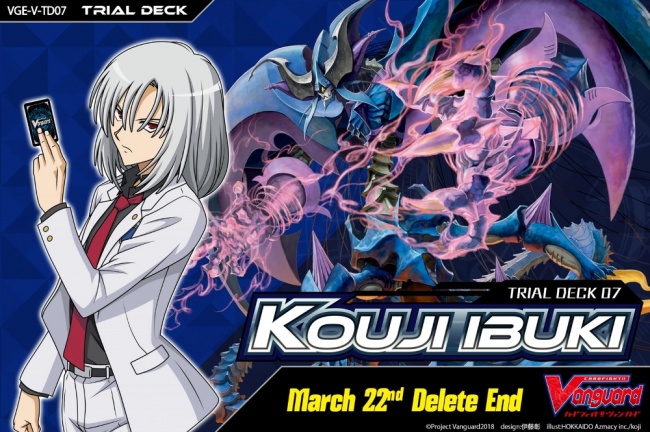 The Link Joker Clan is entering
Cardfight!! Vanguard
with a
Trial Deck
and the
Vilest! Deletor Booster
set on March 22.
The Cardfight!! Vanguard Trial Deck 7 – Kouji Ibuki is a Link Joker deck, with a clan type of "Force." The preconstructed deck includes 50 cards, including 14 types of cards (14 new cards, including 4 holo cards). The deck also includes a guide, playmat and 3 gift markers (2 normal gift markers and 1unit gift marker).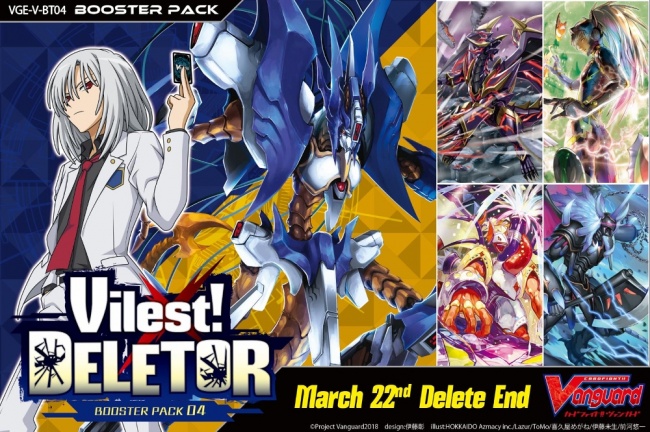 Cardfight!! Vanguard Booster Pack 4 – Vilest! Deletor
will include cards that strengthen Link Joker clan decks, and will also have cards for Shadow Paladin, Dark Irregulars, Pale Moon, and Murakumo clans. The five types of reissue features the First Vanguard and four trigger units of Shadow Paladin. The set includes 84 types of cards (79 new, 5 reissues), including C:42, R:12, RRR: 8, VR: 5, and various parallel cards. Each pack contains 7 random cards, and 2 cards in every pack will definitely be R or above cards.
Retailers can order a Vilest! Deletor Sneak Preview Kit for events on March 15 – 17. The kit contains enough product for 8 players. The kit contains 39 Booster Packs, 8+1 promo cards, and 2 playmats (1 design).
These will follow the February releases of Trial Decks and a Booster (see "The 'Miyaji Academy CF Club' is Coming for 'Cardfight!! Vanguard'").