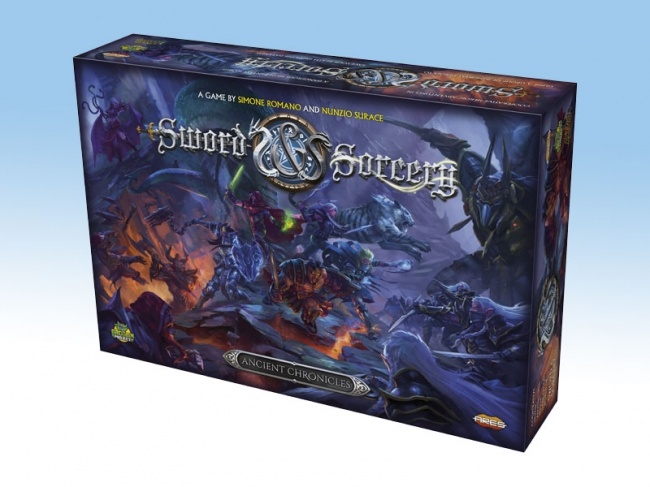 Ares Games will launch a new series of games for its
Sword & Sorcery
line of cooperative dungeon-crawling adventures with
Ancient Chronicles
in early 2020. The game is currently seeking funding on Kickstarter.
Designed by Gremlin Project, Sword & Sorcery: Ancient Chronicles is suitable for both new players as well as fans who have already played the Immortal Souls campaign. This campaign is set in the distant past, though heroes and monsters from Immortal Souls are compatible with this game. Players are legendary heroes, returned to life by powerful sorcery to fight their way through new quests. Weakened by the resurrection, players must earn soul points during battles to regenerate their souls and restore their legendary abilities. The game is for 1 – 5 players.
The Kickstarter quickly reached its' $150,000 goal, and has raised more than $232,754 from more than 2,100 backers as of this writing. The campaign will continue through November 21. While there is not a retailer specific pledge, Ares is happy to offer specific terms to game stores who wish to offer the Legendary Hero rewards to their customers. Retailers can contact Ares Games via email, including full information about their business, to learn more.
Kickstarter fulfillment is planned for December 2019, with trade release to follow in early 2020. The core set has a tentative MSRP of $80.00. The Challenge set, an expansion, will release at the same time, and has a tentative MSRP of $35.00.
Sword & Sorcery – Vastaryous' Lair, the latest expansion for Immortal Souls will release in December or early 2019 (see "'Sword & Sorcery - Vastaryous' Lair'").