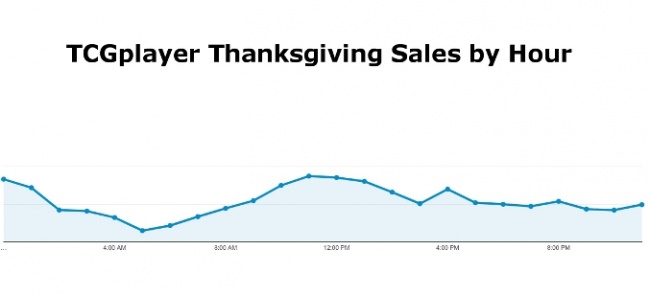 Certified hobby game retailers sold over $750,000 worth of TCG products through TCGplayer.com on Thanksgiving Day, the bulk of the $1 million in sales on the platform for the holiday, the company revealed to ICv2. Sales peaked in the 11 a.m. ET hour.
The early kick-off to Black Friday weekend by the e-commerce platform generated some interesting sales data in addition to the gross numbers.
Of the $1 million in total sales in the 24-hour period, the way sellers used TCGPlayer.com broke down like this:
43% used TCGplayer Pro (TCGplayer's own platform for managing inventory, selling on TCGplayer.com, and selling in-store)
30% used Crystal Commerce (a tool that manages inventory and places products for sale on multiple platforms)
27% used Individual Listings (these are items entered onto the TCGplayer platform as individual items for sale, mostly by sellers not part of TCGplayer's Certified Hobby Shop program).
The $1 million in sales was generated from sales of roughly 400,000 items, with 100,000 shipped out of the TCGplayer warehouse on behalf of sellers.

The top-selling games in the 24-hour period were led by Magic: The Gathering:
Top 5 Collectible Card Games – Thanksgiving Day

Rank
Product
Publisher

1

Magic: The Gathering

Wizards of the Coast

2

Yu-Gi-Oh! TCG

Konami

3

Pokemon TCG

Pokemon USA

4

Dragon Ball Super CCG

Bandai

5

Cardfight!! Vanguard

Bushiroad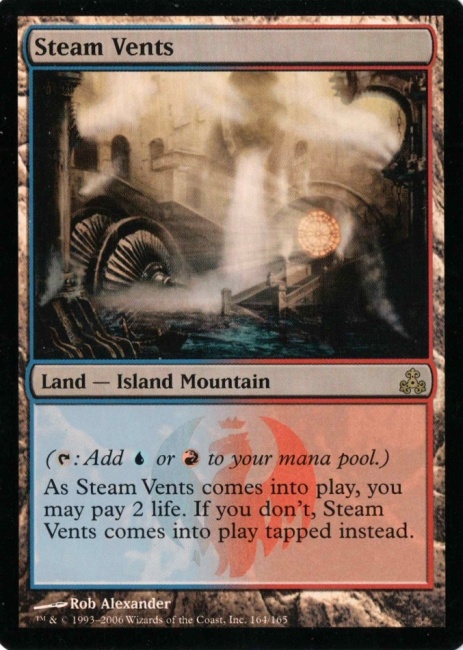 TCGplayer also shared the top items in each of its top six games, plus supplies. "Steam Vents," from
Guilds of Ravnica
, was the bestselling
Magic: The Gathering
item, and the bestselling item on the site.
Top Selling Products by Catagory

Magic: The Gathering

1

Steam Vents

2

Assassins Trophy

3

Watery Grave

4

Temple Garden

5

Ultimate Masters Booster Box

Yu-Gi-Oh!

1

Gozen Match

2

Rivalry of Warlords

3

Prank Kids Lampsies

4

Prank Kids Place

5

Prank Kids Dodo Dooddle Doo

Pokemon

1

Ditto Prism Star

2

Professor Elms Lecture

3

Alolan Ninetales GX

4

Ultra Ball

5

Cynthia

Dragon Ball Super Card Game

1

Gogeta Hero Revived

2

Deadly Defender Vegeta

3

Dragon Radar

4

Dragon Ball Super Gift Box

5

Black Masked Saiyan the Devastator

Cardfight!! Vanguard

1

Darkness Maiden Macha

2

Skull Witch Nemain

3

Black Sage Charon

4

Phantom Blaster Dragon

5

Wyvern Guard Barri

Transformers

1

Autobot Cosmos Recon and Communication

2

Grimlock Dinobot Leader

3

Transformers TCG Wave 1 Booster Box

4

Aerial Recon

5

Armed Hovercraft

Supplies

1

Dragon Shield

2

Ultra Pro

3

KMC

4

Ultimate Guard
TCGplayer has been seeing rapid growth in online sales by game stores, especially in sealed product, the platform's fastest-growing product type, according to Chief Innovation Officer Ray Moore. "
Ultimate Masters
has had over $1 million of presales for Booster Boxes and Cases and we still have two more weeks before it even releases," he said.
"I am incredibly excited at the volume of sales we saw go through the Marketplace yesterday and it is a great signal to the power of Black Friday and Cyber Monday for online sales." TCGplayer CEO Chedy Hampson told ICv2. "LGS sales were exceptionally strong and I am proud that TCGplayer Pro played such a big role in helping stores across the country manage their inventory."