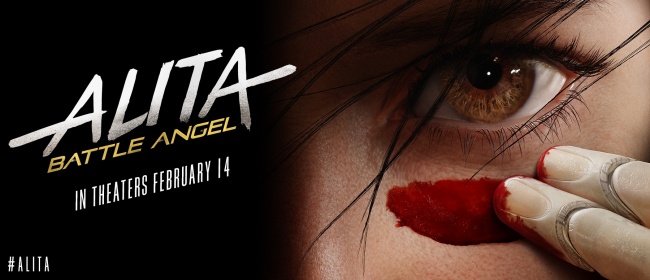 An action-packed new clip from
Alita Battle Angel
has hit the airwaves. Airing during The Game Awards broadcast, the nearly one-minute clip shows Rosa Salazar's Alita taking on a pair of intimidating robot assassins as Christoph Waltz's Dr. Ido looks on helplessly.
The film, which is directed by Robert Rodriguez; written by James Cameron, Laeta Kalogridis, and Rodriguez; and also stars Jennifer Connelly, Mahershala Ali, Ed Skrein, Jackie Earle Haley, and Keean Johnson, will be in theatres on February 14 (see "New 'Alita: Battle Angel' Promo and Poster").
New products releasing ahead of the movie include deluxe hardcover versions of Yukito Kishiro's Battle Angel Alita from Kodansha Comics (see "Anime Expo Roundup: 'Silver Spoon,' More 'Battle Angel Alita,' Deluxe 'Fullmetal Alchemist' and 'Sailor Moon' Editions") and several movie-related books from Titan.