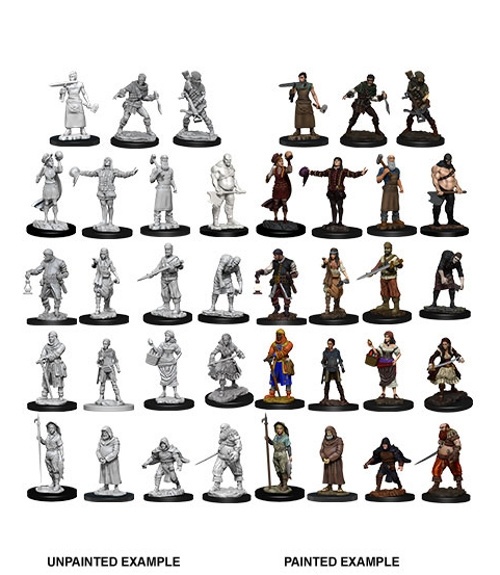 The
WizKids Deep Cuts Miniatures
line is taking a break from monsters and heroes to offer up the
Townspeople & Accessories
set, featuring a variety of items and people one might find in a fantasy settlement. The
WizKids Deep Cuts Miniatures – Townspeople & Accessories
set will release in May.
Like other miniatures in the
Deep Cuts
line, the figures in the
Townspeople & Accessories
set come unpainted but pre-primed so they are ready to paint out of the package. The 42 models in the set are sculpted with deeper detailing for easier painting, while some include translucent parts and the forge coal piece has an LED light for an additional effect.
The set is packaged with clear packaging, so the models can be seen before purchasing. MSRP is $59.99. Some models require minimal assembly.
The
Townspeople & Accessories
set includes 19 townspeople miniatures, including male and female blacksmiths, male and female actors, male and female merchants, a male thief, a female skinner/tanner, a female sheriff, a mail bailiff, a male diplomat, a male friar, a female fisher, a bandit with a crossbow, a bandit with a dagger, male and female pirates, a male executioner, and his assistant.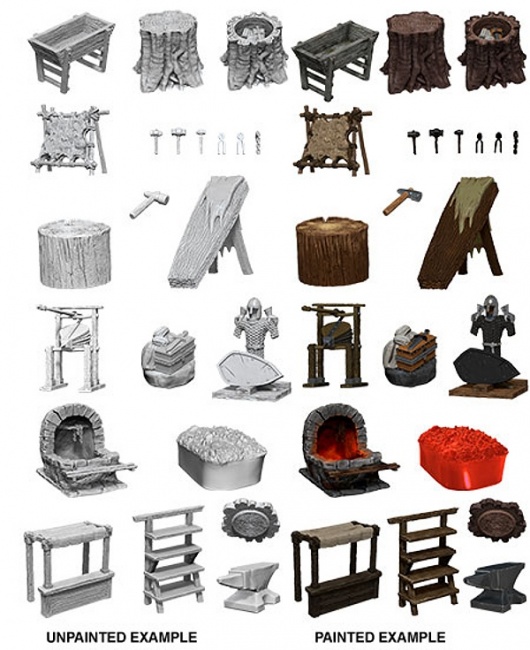 The set also has 23 scenery pieces, including 4 hammers, a stump, a suit of armor, a forge with glowing forge coal piece, 2 sets of tongs, a chain, 2 market stall canopies, 2 market stall shelves, a hollow log with a lid, a treasure pile, a tanning rack, a scraping board, a bellows, and a trough.
WizKids will also release 20 other unpainted model kits in the month of May (see "
WizKids Reveals New 'D&D,' 'Pathfinder' Unpainted Minis
").
Click Gallery below for full-size images!