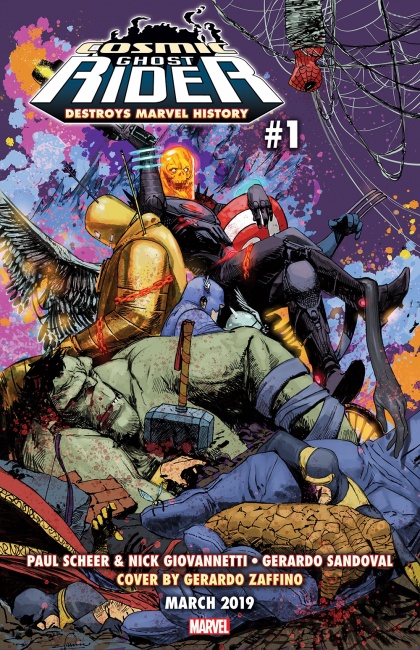 Cosmic Ghost Rider will muck with the history of the Marvel Universe in a new miniseries from comedian Paul Scheer (
The League
) and writer Nick Giovannetti (
Far Cry
,
Deadpool Bi-Annual, Guardians Team-Up
).
Cosmic Ghost Rider Destroys Marvel History
is illustrated by Gerardo Sandoval and covered by Gerardo Zaffino. The first issue of six is on sale March 6.
Cosmic Ghost Rider Destroys Marvel History finds Cosmic Ghost Rider stuck in the past and rewriting the origins of the Marvel Universe. Based on teasers, it looks like he may change the events of the Dark Phoenix Saga, meddle with Captain America's icy sojourn, give the Fantastic Four their powers, and bring back Spider-Man after Peter Parker is Spider-Man no more.
Scene-stealer Cosmic Ghost Rider debuted last year in Thanos #13 from Donny Cates and Geoff Shaw. The alternate version of Frank Castle turned spirit of vengeance has generated quite a bit of buzz, earning his own line of variant covers (see "Preview: 'Cosmic Ghost Rider' Variant Covers") and a popular ongoing from Cates and Dylan Burnett (see "Top 500 Comics--November 2018").
Click on the Gallery to view the teasers for the series.