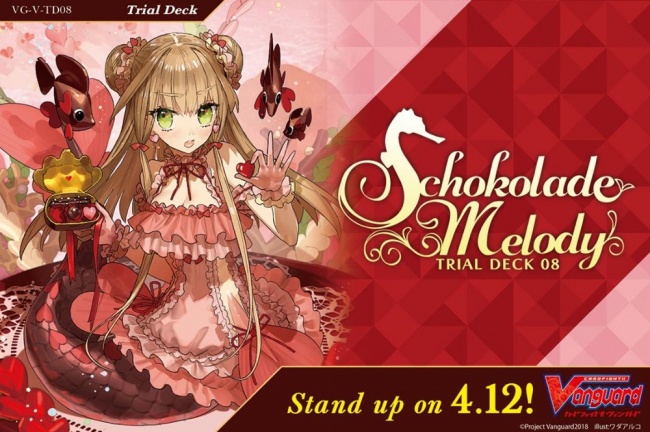 Bushiroad is adding the mermaids of Bermuda Triangle Clan to
Cardfight!! Vanguard
this spring with the
Schokolade Melody Trial Deck
and
Primary Melody Extra Booster
.
Cardfight!! Vanguard Trial Deck 08 - Schokolade Melody will release on April 12. The pre-constructed deck contains 50 cards, including 14 types of cards (14 new cards, inclusive of 4 holo cards), a player's guide, playmat, and 3 gift markers (2 normal, 1 unit). A random PR card (1 of 5 of the main characters from the Bermuda Triangle animation "Colorful Pastorale") will be included in each deck. Each display contains 6 deck, and each carton includes 8 displays.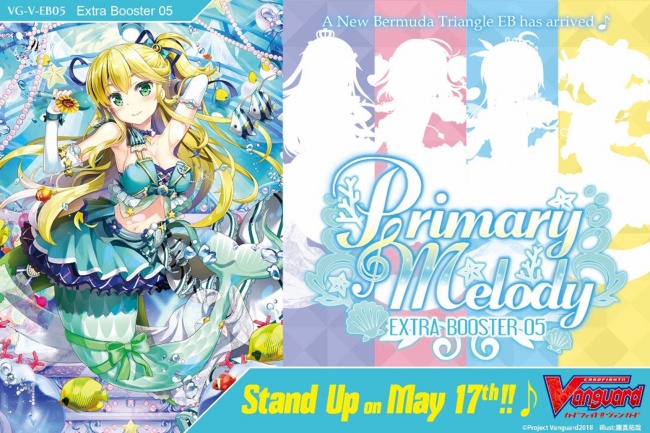 The
Cardfight!! Vanguard Extra Booster 05 – Primary Melody
will release on May 17. The booster will include 45 types of cards + parallels (more details revealed at a later date.) Each pack includes 7 random cards, and each display contains 12 packs. Each carton includes 24 displays.
Each pack includes at least 2 R or above cards, and each display will include at least 1 card featuring a character from the Bermuda Triangle "Colorful Pastorale" animation.
Registered tournament retailers who wish to host a Sneak Preview event for the Primary Melody Extra Booster release may order a Sneak Preview Kit. Each kit contains 39 boosters, 8+1 promotional cards, and 2 premium rubber playmats (1 design). Each kit supports up to 8 players. Sealed or booster draft format events must be held the weekend of May 10 – 12.
Crunchyroll will be premiering the "Colorful Pastorale" anime in January 2019.
These releases will follow the March releases of the Link Joker Clan Trial Deck and Booster Pack (see "Link Joker Clan Enters 'Cardfight!! Vanguard'").