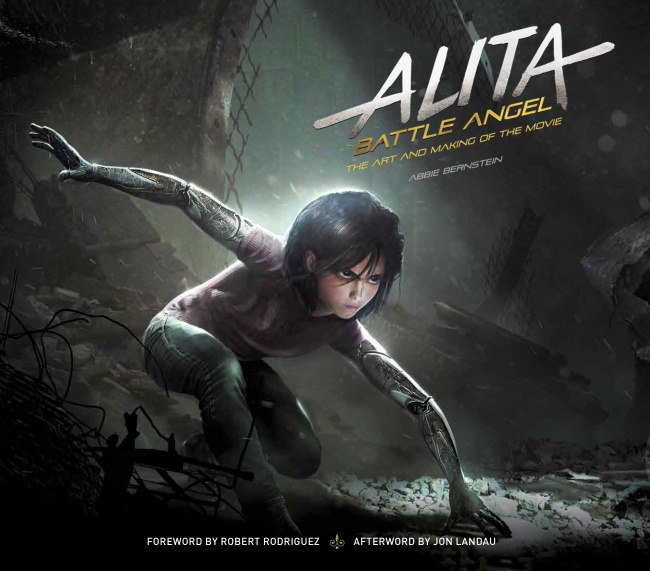 Twentieth Century Fox Consumer Products announced details on the
Alita: Battle Angel
merchandise that will be available from licensees Titan Books, Funko, WETA Workshop, Loot Crate, Hot Toys, Prime 1 and Rubies.
Titan Books will release several books tied to the movie in the new year: Alita Battle Angel Official Movie HC Novel ($22.95), Alita Battle Angel Art & Making of the Movie HC ($45.95), and Alita Battle Angel Dr. Ido's Journal ($24.95). Alita: Battle Angel – Iron City ($14.95), the prequel novel to the film, is already available.
WETA Workshop is releasing a line of Alita Mini Epics vinyl figures. Now available for preorder are: Alita, Dr. Ido, and Zapan. WETA will also release prop replica weapons and pop culture collectibles for the film, including a 1:1 scale cosplay prop replica of the Damascus Blade used in the movie. A high-end stainless-steel version will also be made available.
Sideshow Toys' Hot Toys will release a detailed 1:6 scale figure of Alita in her Berserker Body. It includes interchangeable hands, a Damascus Blade weapon, and detailed display stand.
Prime 1 Studio will release an Alita Berserker Quarter Scale Statue that will be available in a regular and deluxe version. The deluxe version includes multiple interchangeable arms and the ability to change Alita's expressions. Each statue is nearly 25" tall and include a LED-light up feature.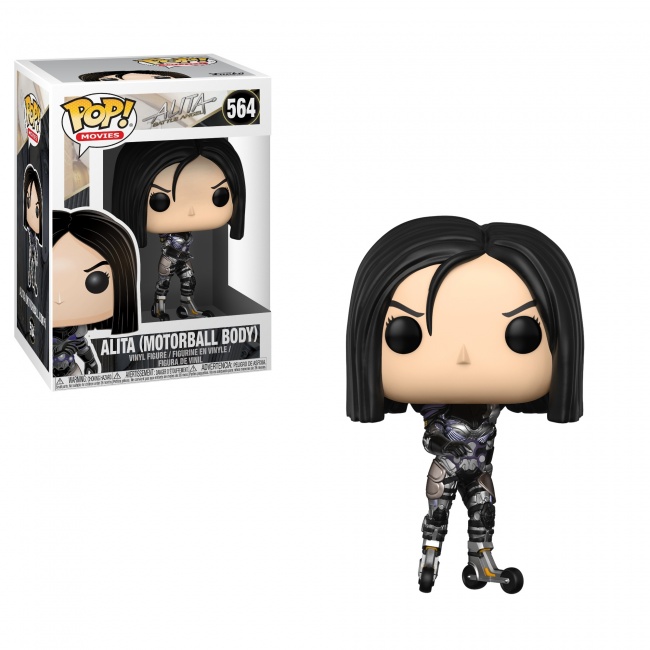 Funko has released a set of Alita Pop! figures which show off the multiple bodies of the film's heroine: Alita Motorball Body, Alita Doll Body, and Alita Berserker Body. FYE stores will also have an exclusive Alita Black & White Berserker Body Pop.
Rubie's will release Alita-inspired cosplay outfits in 2019: Alita Doll Body Costume ($50), Alita Berserker Costume ($50), an Alita Wig ($30) and sword ($15). The Rubie's Grand Heritage collection will release an enhanced Alita Doll Body ($150) and Alita Berserker costume ($150).
Loot Crate will be offering a selection of movie related merchandise in their subscription boxes in 2019: an exclusive Alita Motorball figure (Loot Anime / January), an Alita Berserker figure (Loot Anime / February), an Alita Doll Body enamel pin (Loot Crate / February), a Black & White Alita Motorball variant figure (Loot Crate DX / February) and Alita leggings (Loot Wear / February).
Alita: Battle Angel releases in theaters on February 14 (see "New 'Alita: Battle Angel' Promo and Poster").
Kodansha Comics will be releasing deluxe hardcover versions of Yukito Kishiro's Battle Angel Alita manga ahead of the movie (see "Anime Expo Roundup: 'Silver Spoon,' More 'Battle Angel Alita,' Deluxe 'Fullmetal Alchemist' and 'Sailor Moon' Editions").

See images of books, figures and more in the Gallery below!