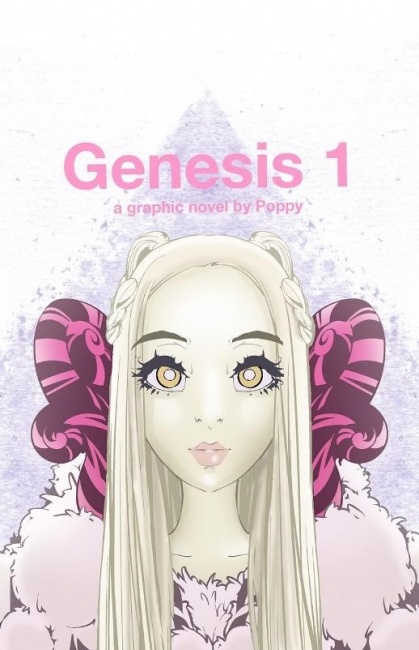 Z2 Comics will release
Genesis 1,
a graphic novel telling the origin story of Poppy, the milquetoast but compelling YouTube singer, in July.
Genesis 1 will be written by Poppy, Titanic Sinclair and Ryan Cady, with art by Masa Minoura and Ian McGinty (Adventure Time, Bravest Warriors). The 160-page full color hardcover graphic novel will tell the story of Poppy. It will also include a new album only available with the graphic novel. MSRP is $24.99. Z2 Comics will be selling a limited deluxe edition including an oversized 9" x 15" slip case, a free print and vinyl signed by Poppy for $99.99.
Poppy is a singer-actress who has a record deal with Island Records, and released Bubblebath (as That Poppy). She later signed with Diplo's Mad Decent label and released Poppy.Computer, and Am I A Girl?. She promotes herself with vapidly earnest nonsensical videos skewering consumerism and her own celebrity. Her music videos do not adhere to conventional expectations or formats. She will be touring to support the album in North America beginning on January 31.