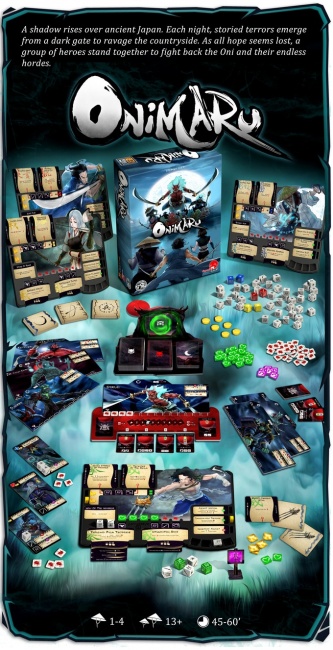 Big Kid Games, under its Penguin & Panda Productions imprint, is producing a dice-based cooperative game entitled
Onimaru
, which will be distributed through Japanime Games.
In Onimaru, a trio of demonic beings called Oni are trying to invade ancient Japan, and the players must work together to stop them before it's too late. The players assume the role of the heroes, each with their own techniques, skills, and talents. Using the game's custom dice, they choose to attack the Oni or their minions, called Hordelings, protect themselves from the Oni's attacks, or use their character's techniques to help one another. If the heroes can defeat all three Oni before the Nightfall deck runs out, they win the game.
Onimaru was designed by Stephen Avery (co-creator of Nothing Personal and Doppelganger) and features artwork by Mj Leong. The game includes 4 player boards with trays, 7 Oni boards, 24 tiles, 182 cards, 56 dice, 8 discs, 113 markers, 1 shadow gate board, and 1 leader flag standee. It is intended for 1 to 4 players, ages 13 and up, and takes about an hour to play. MSRP is $59.00.
Big Kids Games is funding the production of Onimaru through a Kickstarter campaign that has attracted $119,703 from 1,433 backers as of this writing (an average of $83.54 per backer) with 17 days remaining. The campaign includes the "Retail Edition" of the game described above as well as a Kickstarter-exclusive "Deluxe Edition" that features upgraded player trays from gametrayz, 11 additional Oni dice, and 42 additional cards. The campaign has a backer option for brick-and-mortar retailers that includes the deluxe version.
After the Kickstarter fulfillment, Japanime Games will take over the distribution of the game into the trade, with the trade release of the "Retail Edition" planned for Gen Con.
An expansion set with two additional heroes is also planned.