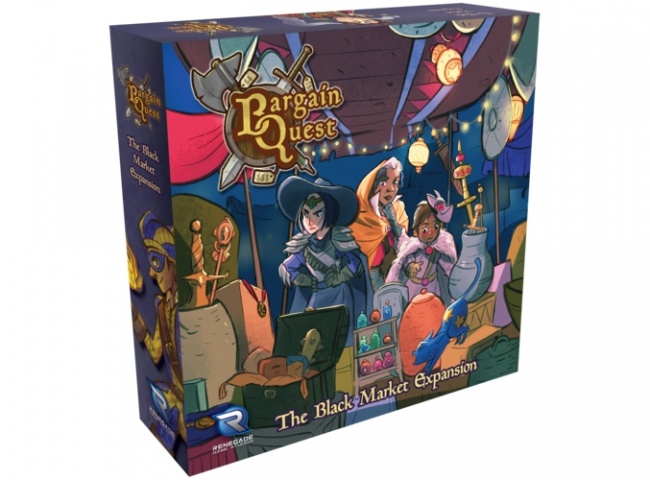 Would-be fantasy merchants will soon have new opportunities for profit when Renegade Game Studios releases
Bargain Quest:
The Black Market Expansion
in May.
In Bargain Quest, players are shop owners in a fantasy town catering to the needs of adventuring heroes (see "Renegade Picks Up 'Bargain Quest'"). The Black Market Expansion reveals the seedier side of fantasy shop-keeping by introducing the "Black Market Upgrade" to the game. In addition to the new playing mode, the expansion offers new heroes to sell to, new employees to hire, new monsters for the heroes to face, and, of course, new items to stock in players' shops.
The Black Market Expansion includes 2 folding shop boards and 59 cards. Like the base game, it was designed by Jonathan Ying and features artwork by Victoria Ying. The expansion allows two additional players to join in, expanding the player count to 2 to 8. MSRP is $20.00.
In April, Renegade will launch a new line of solitaire storybook games (see "Renegade Launches 'Solo Hero Series'").