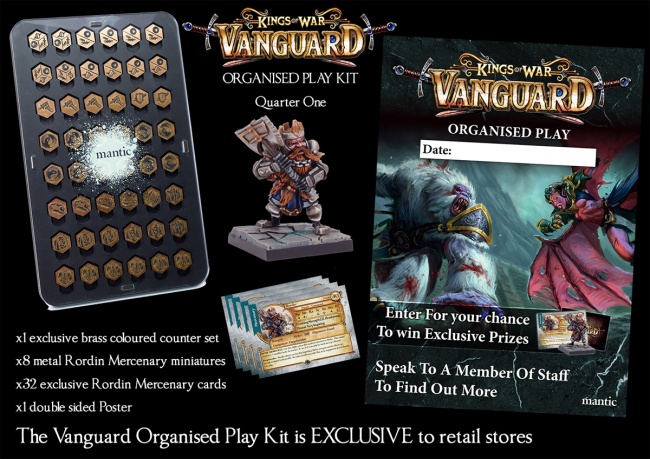 The
Kings of War: Vanguard
miniatures game is getting support from Mantic Games with the release of the
Vanguard Organized Play Kit,
available exclusively to retailers, launching this month.
The Vanguard Organized Play Kit is designed to help retailers host Kings of War: Vanguard events in store as well as attract players to regular in-store events. Each kit comes with 8 metal miniatures and 32 cards, available only as part of the kit. In addition, the kit has a poster to help promote events and an exclusive brass-colored counter set intended for use as a tournament prize.
Mantic will offer a new kit every quarter, with different miniatures and cards in each. The first kit, covering the first quarter of this year, features a Rordin Mercenary.
Kings of War: Vanguard is a skirmish-scale version of Mantic's tabletop battle game Kings of War, which can be combined with the larger game to create linked campaigns (see "'Kings of War' Gets Personal With New Skirmish Game"). In addition to the Organized Play Kit, the game will be expanded this quarter with the release of the new Nightstalkers Faction (see "'Kings of War: Vanguard' Adds Horde of Nightstalkers").